Hugo Beras visits Minister David Collado upon taking office at Intrant
Beras: "I will assume this commitment with the determination and transparency that characterizes him, convinced of the importance of tourism for our economy".
After taking office as director of the National Institute of Transit and Land Transportation (Intrant), Hugo Beras, made his first visit to the Minister of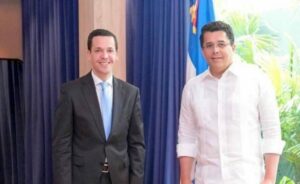 Tourism, David Collado.
"Since today afternoon that we assumed the direction of Intrant our first visit was to the Minister of Tourism, David Collado to coordinate a work agenda in the Tourist poles. Very convinced of the importance of Tourism for our economy", posted Hugo Beras in his social networks.
It is recalled that Intrant is working together with Mitur to improve land and water tourism transportation in the country.
Learn more: NEWS