The IDB Group's innovation laboratory, IDB Lab, and the business accelerator Boost Acceleration Camp signed a cooperation agreement focused on promoting early stage technology entrepreneurship.
This is done through the implementation of an investment platform, services, support and connection for 25 ventures in three years.
This project will be implemented through Boost's acceleration program (Boost Acceleration Camp) and includes a capital injection of US$30,000 for each venture in addition to an initial diagnosis, the planning of business goals, weekly support, and links with mentors and experts in technology, marketing, finance, and legal management as needed.
Similarly, the linkage with these services allows entrepreneurs to focus on improving their ventures with expert support, according to the needs of their target.
The total amount of the project is $2 million, of which IDB Lab is providing $750 in investment financing and $250,000 in technical cooperation. The remainder is provided by Boost AC as counterpart funding.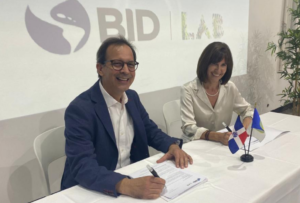 In parallel, Boost's methodology includes working with strategic allies such as Enlaces, a network of angel investors who support the preparation of ventures to receive investment; Orion Startups, the accelerator of the TEC de Monterrey in Mexico; and Founders Institute CDMX through which they have access to a global network of mentors, bootcamps and other benefits.
The result of this project will be the strengthening of an acceleration model for early stage ventures and incipient ecosystems to promote the consolidation, development and expansion of technology-based ventures in the Dominican Republic and prepare them for the scaling stage after their passage through the program.
About BID Lab
IDB Lab is the IDB Group's innovation laboratory, the main source of financing and knowledge for development focused on improving lives in Latin America and the Caribbean (LAC).
IDB Lab's purpose is to drive innovation for inclusion in the region, mobilizing funding, knowledge and connections to co-create solutions capable of transforming the lives of populations made vulnerable by economic, social or environmental conditions.
Since 1993, IDB Lab has approved more than $2 billion in projects developed in 26 LAC countries, including investments in more than 90 venture capital funds.
Learn More: TECHNOLOGY