The Instituto Nacional de Formación Técnico Profesional (Infotep) has initiated a professional training program that will impact 10,000 Dominicans residing in 18 cities around the world or in the process of migration.
The U.S. cities where Dominicans will receive training are Lawrence, New York, New Jersey, Tampa, Orlando, Miami and Pennsylvania.
In addition, training will be provided in Puerto Rico, Venezuela, Chile, Uruguay, Aruba, Antigua and Barbuda, Bonaire, Jamaica, Curacao, Trinidad and Tobago and Panama.
The plan was presented from Infotep's headquarters in the country, and simultaneously in each city where the training program will be taught.
The objective is that Dominicans abroad develop their technical skills and have the opportunity to obtain better paid jobs, which will allow them to improve their quality of life.
The director of Infotep, Rafael Santos Badía, highlighted the contributions of the Dominican community abroad. The disciplines to be taught are plumbing, electricity, refrigeration and heating, these will be taught throughout the national territory for Dominicans who are waiting for residency, in alliance with training centers abroad.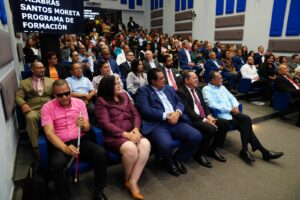 "Dominicans abroad drive and strengthen the economy of their families and the country with their remittances, so we must give them back a little of everything they give us," said Badía.
The training program has more than 120 curricula that will be taught virtually simultaneously where the Diploma in Transformational Leadership and courses on cloud application development, App development, content development for the network, digital graphic design, web page development, social media management, storytelling illustrator, English, accounting, sales, office software management and digitization will be offered.
Santos Badía explained that the resources that will be used to execute the training plan for the Dominican diaspora come from the contributions made by the Dominican State to the institution through Law 116-80, which created INFOTEP.
"Today, thanks to a more complete social conscience, to a government of great openness and change, presided over by Luis Abinader, we have come to make a long awaited achievement a reality, by launching the Training Program for Dominicans Abroad", highlighted the director of Infotep.
Attendees.
Present at the event were the director of the General Directorate of Government Ethics, Milagros Ortíz Bosch; Fausto Liz, Dominican ambassador in Chile; the representative of Migration and Commerce of Antigua and Barbuda, Chet Greene; the director of the Institute of Dominicans Abroad, Carlos de la Mota; the consul general in Puerto Rico, Opinio Díaz; the consul general in Curaçao and María Luisa Ubiera.
Learn more: NEWS