On November 2, President Luis Abinader will inaugurate the central act of this meeting in which the six world and regional organizations that profess the ideology of Social Democracy will meet in the country from October 30 to November 5.
,, from MIREX; Environment and Natural Resources; and Planning, Economy and Cooperation, respectively.
The Modern Revolutionary Party (PRM) is the host of this Meeting of Social Democracy, being the first time that these six (6) Organizations meet together, thanks to the work deployed abroad by its National Secretary of International Affairs (SAINTER), headed by Dr. Jesus Feris Iglesias and his team of diplomacy professionals.
The International Organizations are: Alliance Progressive Global Alliance (APG), the International Union of Socialist Youth (IUSY), the Progressive Alliance of the Americas (APLA), Allied Parties of Latin America (PAOLA), the Olof Palme Foundation (FIOP) of Sweden and the Instituto Igualdad of Chile. More than one hundred (100) experts from the five continents are expected to attend, who will discuss the main topics of the Meeting, and some will be interviewed on television programs and in the press.
Among the main and most relevant topics to be discussed and evaluated at the Meeting, are "Peace and Security in the Americas, total as a possible horizon", something that has been achieved although both are always fragile, because due to social distortions, development, progress and other conditions inherent to human beings, which occur in our societies by governments far from them, peace and security are often affected.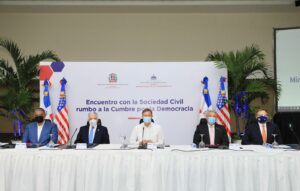 The "Human Rights and Democracy", so current issues will be analyzed by Chancellor Alvarez and the Secretary General of CLACSO, a regional organization that deals with social and human aspects. And our Minister Ceara Hatton will highlight the social and economic issues outlined and carried out by the Government of Change during his administration, in the remainder of his term, and in a new PRM government.
The theme of "Gender and Youth", with emphasis on women of the Americas and youth of the world, these belonging to the IUSY, a global institute that brings them together, will be discussed at the meeting.
Women leaders of the Americas, senators, politicians and community leaders, together with those of the country. Gloria Reyes, Elizabeth Mateo, among others, will be in charge of analyzing this genre. On the other hand, Minister Pavel Isa, specialist also in the conformation of government programs, participant in the conformation of the one that executes the Government of Change, in the opportunity under the direction of Minister Micky Ceara, will explain it to the youth.
This important Meeting of Social Democracy and its themes, where these six (6) world and regional organizations, have distinguished the Dominican Republic, President Luis Abinader and the PRM, will be held from Monday October 31 to November 5, at the Crowne Plaza Hotel.
Learn More: NEWS