APRIL 2017
Puerto Plata, Sosúa, Samaná, Punta Cana, Jarabacoa and Constanza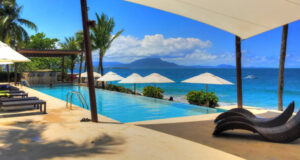 The Dominican Republic is an island nation in the Caribbean situated between Cuba and Puerto Rico. The country's 18,700 square miles of territory extends over more than half of the island it shares with Haiti. It is home to a diverse natural landscape that includes white-sand beaches, fertile plains and breathtaking mountain ranges that reach elevations over 10,000 feet, the highest in the region. The Dominican Republic is also home to a growing population of expatriates, who live in cities throughout the country.
While the Dominican Republic is not the cheapest retirement destination in the world, it does provide excellent value for money compared to most other destinations in the Caribbean. It is absolutely possible to live comfortably in the country on a $1,000 monthly budget. Most single expatriates living alone would probably benefit from a slightly higher budget of around $1,200 per month. However, if you're sharing housing costs with a spouse or roommate, a $1,000 monthly budget per person should be enough to live very comfortably.
Where to Live
Comfortable and affordable housing is available around the country. The capital, Santo Domingo, delivers a fast-paced urban lifestyle with easy access to services, health care, cultural attractions, shopping and everything else a modern city provides. Popular coastal cities include Puerto Plata, Sosúa and Cabrera in the north, and Samana and Punta Cana in the east. Many expatriates prefer to get away from heavily tourist areas by settling in smaller towns dotting the coastline. Inland destinations include the bustling city of Santiago de los Caballeros near the north coast and the cooler highland cities of Jarabacoa and Constanza, which are located in the center of the country at 1,700 and 3,800 feet of elevation, respectively.
Rent and Utilities
While inexpensive housing is available across the country, rents tend to spike in tourist centers. That said, prices are almost always much more reasonable in surrounding neighborhoods, so spend some time searching for a better deal nearby. Careful apartment hunting can have a big impact on your monthly expenses.
A one-bedroom apartment in the central districts of Santo Domingo costs around $415 per month. This is probably the upper limit on rent that allows you to maintain a good living standard on a $1,000 monthly budget. To save some money, seek out better deals available in outlying neighborhoods. The average price for a nice one-bedroom apartment outside the central districts of Santo Domingo is about $250 per month, while a three-bedroom unit goes for a little over $510 on average.
For inexpensive coastal living, Puerto Plata and nearby towns are very good options. A one-bedroom apartment in the center of Puerto Plata is about $270 per month, while the average price for a three-bedroom condominium is only about $405. Prices fall by $100 or more for similar accommodations outside the center. Punta Cana, at the southern tip of the island, is more expensive. Rent in a centrally located one-bedroom apartment is around $440. Outside the center, similar accommodation is about $330, while a three-bedroom unit goes for around $415.
The national average for utilities, including electricity, water and garbage service, is about $62. This is based on moderate electricity use, so budget more if you expect to make regular use of the air conditioner. As of 2015, electricity outages are somewhat common in the Dominican Republic. Some expatriates invest in gas-powered generators to provide power during outages. Unlimited broadband Internet service costs about $50 per month across the country. Prepaid cellphone service costs about 17 cents per minute on average, not including plan-based discounts or promotional deals.
Food
Locally produced food in grocery stores and markets is generally inexpensive in the Dominican Republic. Familiar staple foods such as rice, eggs, corn, beans, potatoes and chicken feature prominently in local cuisine and are cheap across the country. The average price of a loaf of bread is about $1.25, rice is 60 cents per pound, a dozen eggs costs about $1.60 and boneless, skinless chicken breast costs about $2.65 per pound.
As a relatively small island nation, the Dominican Republic imports many of the consumer packaged goods on its shelves. All kinds of international food products, including cheeses, meats, beer and chocolate, are available in cities and tourist centers. Imported food is generally quite expensive, so stick to local-brand products whenever available. By shopping outside tourist centers, choosing locally produced foods and cooking at home, you can enjoy a varied, exciting diet on $200 or less without much trouble.
On a $1,000 budget, there's not a lot of room for regular restaurant dining in the Dominican Republic. A cheap, tasty meal in a busy neighborhood restaurant costs about $5 to $7 in many cities. Expect to pay nearly $35 for a three-course meal for two people at a mid-range restaurant, not including alcoholic drinks. For a cheaper option, delicious meals are often available for under $3 from neighborhood food carts.
Health Care
Health care in the Dominican Republic is generally much less expensive than in the United States. However, first-rate care is limited to private hospitals in bigger cities such as Santo Domingo and Santiago de los Caballeros. Private clinics offering high-quality care are available in many of the popular expatriate and tourist centers, but they do not provide the full range of medical services typically found in hospitals. Expatriates generally avoid the publicly operated hospitals and clinics located around the country.
While doctor visits and other health care services are generally very cheap in the Dominican Republic, most expatriates carry health insurance while living in the country. Monthly policy premiums range between $30 and $100 per month, and policies are available from domestic and international insurers.
Other Expenses
Household cleaning items, personal hygiene products and other common goods are generally inexpensive in the Dominican Republic. However, imported products, such as deodorant and contact lens solution, for example, range closer to U.S. prices. Most expatriates can meet a budget of about $100 per month in this category. If you regularly purchase cosmetics, contact lenses, clothes and other products, you may need a bigger budget in this area.
The Dominican Republic's larger cities have public bus systems, while most cities rely on a mix of other options. Passenger cars, vans and trucks, known as públicos, follow set routes in many cities. Motorcycle taxis, known as motoconchos, are ubiquitous in most cities and towns. Traditional taxis also wait at designated stops around many cities. Bus, público and motoconcho fares vary based on distance and city, but they are generally less than 60 cents per ride. Taxi fares must be negotiated.
A Sample Budget
If you decide to live on the eastern coast in Punta Cana, a $1,000 budget might include $330 for a nice one-bedroom apartment in a neighborhood outside the city center,  $200 for groceries,  $150 for utilities, Internet and cellphone service, including moderate air conditioning,  $125 for household and personal items, and $35 for transportation. This budget leaves $160 for you to spend on health insurance, dining out, travel or entertainment. Raising your overall budget by $100 or $200 would provide a much-needed cushion for emergencies and other unexpected expenses.