Sales in the manufacturing sector increased by 18.1% in 2022, assured Víctor Ito Bisonó, Minister of Industry, Commerce and Mipymes (MICM), in the presence of Vice President Raquel Peña, who led the inauguration ceremony of the new production line of the Planeta Azul water purification and bottling plant.
The vice-president of the Republic inaugurated the work, together with Minister Bisonó; Amelia Vicini, president of the Board of Directors; Alfredo Pacheco, president of the Chamber of Deputies; Emilia Díaz, executive of Grupo Inicia; and Diego Freire, general manager of Planeta Azul.
In the new production line, the company Planeta Azul made an investment of RD$450 million, which will generate 200 direct jobs and more than a thousand indirect jobs.
Minister Bisonó assured that the millionaire investment made by Planeta Azul demonstrates that the growth of the Dominican industry "is a reality".
The official provided additional figures that "certify the progress of the local manufacturing sector", and detailed the progress achieved by the beverage manufacturing subsector in 2022.
During his speech, he said that beverage sales totaled RD$157,351 million last year, an increase of 6.2% over 2021, of which non-alcoholic beverages accounted for 24.7%.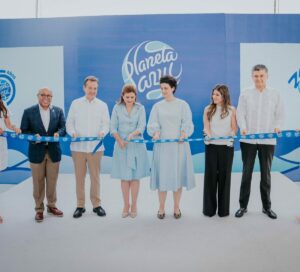 With respect to the number of jobs, the official noted that industries dedicated to beverage manufacturing registered more than 15,500 formal workers as of December 2022, of which 64% work in the manufacture of non-alcoholic beverages.
The MICM minister highlighted that Planeta Azul put on its label the Made in the DR seal, a service offered by the ministry free of charge with the objective of identifying locally manufactured products and that, since February 2023, 38 licenses have been granted with more than 350 products manufactured in the country.
"We are not pleased to see that the values of Planeta Azul align with this initiative, led by the MICM and AIRD. The Made in DR seal highlights what is manufactured here with pride, generating jobs, paying taxes and creating foreign exchange," he said.
Meanwhile, Diego Freire, Planeta Azul's general manager, explained that the new system will increase the company's production to one million bottles per day and will facilitate their recycling, by changing the traditional blue color of the brand for a transparent one.
Freire emphasized that Planeta Azul is a Dominican industry determined to be sustainable, to have less impact on the environment and to manage its resources. "This investment shows how Dominican industrialists are betting on sustainability and innovation," he stressed.
During a tour of the plant's facilities, the vice president highlighted the high impact that the new system will have on the local market, as it is an example of innovation, efficiency and productivity.
Source: Micm.gob.do
Learn More: NEWS