The birth and implementation of the "Made in Dominican Republic" seal, which will regulate the identification of products from free trade zones and national manufacturing, is born under crossfire between the Ministry of Commerce, which will be in charge of granting the permits for its use, while some businessmen are beginning to criticize it.
The Ministry of Industry, Commerce and Mipymes (MICM) presented the "Made in the Dominican Republic" seal, with the support of the private sector, which will allow national and foreign consumers to identify locally manufactured products, as well as to raise the identity of what is made in local manufacturing industries or free trade zones.
The event was headed by the Minister of Industry, Commerce and Mipymes (MICM), Víctor -Ito- Bisonó and the president of the Association of Industries of the Dominican Republic (AIRD), Julio Brache, who highlighted that 29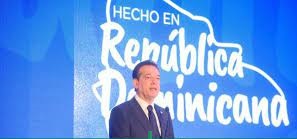 industries have been authorized to use it.
The MICM initiative arose in response to the need for a single seal to identify products manufactured by local manufacturing industries and free zone industries that comply with the requirements established in the Manual of Use and Graphic Identity of the "Made in the Dominican Republic" Seal.
Bisonó emphasized that "the implementation of the seal will achieve the distinction and permanence of the products of local manufacturing and free trade zones in national and foreign consumers, an initiative protected by Law 20-00 on Industrial Property", said Bisonó.
Julio Virgilio Brache, president of the AIRD, indicated that this initiative increases the added value of the products with a seal that adds a valuable intangible value reflected in the prestige of Made in the Dominican Republic.
The seal is a protected distinctive sign registered in accordance with Law 20-00 on Industrial Property of the Dominican Republic and is complemented by a manual of use and graphic identity for its application by interested industries.
The issuance of the License of Use of the Made in Dominican Republic Seal is free of charge, is voluntary and is requested at the MICM Virtual Window (ventanillavirtual.micm.gob.do), through a form.
Present at the event were Jose Luis Venta Diez, vice-president of sales of Mercasid; Santiago Carrasco, manager of Cocacola; Fernando Del Rio, general manager of Bepensa Dominicana and Jose Antonio Cabrera, director of Cemex.
Also in attendance were Raimundo Rodríguez, manager of Pepsico, Eduardo Adams, general manager of Tiendas La Nacional, Adriano Brunetti, manager of Domicen, Carla Quiñones of Jenny Polanco and Williams Fernandez and Tito Ventura of La Aurora, among other businessmen and personalities linked to the national industry and commerce.
Source: micm.gob.do
Learn more:NEWS