The Minister of Economy, Dr. Janio Rosales, participated this Monday in the opening of the "Guatemala Week in the Dominican Republic", an activity that will take place for three days in Santo Domingo and is part of the agenda of the multisectoral trade mission organized jointly with the Chamber of Industry of Guatemala (CIG) and the Ministry of Economy of Guatemala (MINECO).
In addition to officials from MINECO, MINEX and directors of CIG, a group of 10 Guatemalan companies from the software, personal care and hygiene, plastics, as well as construction supplies sectors are participating in the Economic Tour of the Dominican Republic.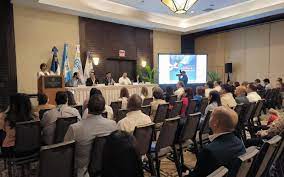 During his participation in the opening of the event, Minister Rosales addressed those present, to whom he presented the Guatemala Plan for the World 2023. Among other aspects, he recalled that as a result of the COVID-19 pandemic and the Russian-Ukrainian crisis
He recalled that the Russian-Ukrainian crisis has created a window of opportunity for the relocation operations of international companies, especially those from the United States, to get closer to their target markets, which Guatemala is taking advantage of due to its geographical position and business climate.
Dr. Rosales also referred to the improvement of the country risk rating by international rating agencies, the most recent of them, S&P Global Ratings; he spoke about the industrial capacity of the country where 4 out of 10 products manufactured in Central America are made in Guatemala; about the nearshoring strategy that positions the Guatemalan territory as the ideal destination for the relocation of international operations; the investment attraction program, the business climate and competitiveness in general, as well as the trade facilities it offers due to the portfolio of trade agreements it has, among other topics.
For his part, the Guatemalan Foreign Minister, Mario Búcaro, said that the event seeks to "strengthen the commercial relationship of Guatemalan industry with the Caribbean market, in order to continue creating bridges of development and prosperity".
During the rest of the first day of activities, after the protocol event, Guatemalan and Dominican businessmen held one-on-one meetings during the planned business roundtable.
In addition to Minister Rosales and Foreign Minister Búcaro, the opening ceremony was attended by Pável Isa Contreras, Minister of Economy, Planning and Development of the Dominican Republic; Roberto Álvarez, Minister of Foreign Affairs of the Dominican Republic; and Luis Alfonso Bosch, President of the Chamber of Industry of Guatemala.
Source: Prensa.gob.gt
Learn more: NEWS