A delegation of 24 students from Elon University of North Carolina was received at the Mitur headquarters to the rhythm of merengue performed by the folkloric ballet of the Ministry of Tourism.
The students of Tourism and Sport Management visited the institution with the objective of learning first hand about the work that is being carried out there for the development and linkage between these two areas in the Dominican Republic.
The tour of Mitur's facilities was coordinated by the Technical Vice-Ministry, headed by Jacqueline Mora Báez, with the support and participation of the Vice-Ministries of Tourism Promotion and Development, Destination Management and International Cooperation, as well as the Directorates of Marketing, Communications and International Relations, among others.
The welcoming remarks were made by the director of Provincial Tourism Initiatives, Yira Vermenton, who emphasized the positive impact that sports have on tourism, while assuring that the Dominican Republic as a tourist destination is the most important in the entire Caribbean region, for which she urged the students to return and enjoy all the attractions that Quisqueya la Bella has to offer.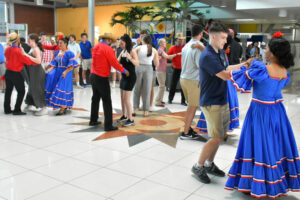 As part of their visit to the Ministry of Tourism, the students participated in a discussion on the importance of sports in the development of local tourism.
In addition, it was explained to them that water sports such as kayaking, windsurfing, kitesurfing, among others, are disciplines that attract thousands of athletes and tourists to the Caribbean country, especially to the province of Puerto Plata located in the northern region, but that baseball is the one that provides greater projection to the Dominican destination at the international level, being the favorite sport of Dominicans.
The students were also guided through the different departments of the institution, where they were explained the functions that each one of them performs.
Source: Mitur.gob.do
Learn More: NEWS