The work, which will improve the living conditions of the beach merchants, will cost approximately 96 million pesos.
The Minister of Tourism, David Collado started the works for the improvement of the infrastructure of services in Playa Palenque, in this province, at a cost of RD$95,577,861.20.
The project of improvement of the infrastructure of services in Playa Palenque is a work of an intervention area of 4,200 mts2. It will have an access plaza to the project of 972 mts2 in terrazzo tiles, framing the main area to be intervened.
The Minister of Tourism reiterated his commitment to continue improving the infrastructure of the country's beaches, so that more domestic and foreign tourists can enjoy a decent recreational space and so that small and medium-sized merchants can improve their quality of life.
"Today we are fulfilling our promise to improve the entire beach area of Palenque. From this work there will be a before and after, here, on this beautiful beach," said Minister Collado.
He expressed that the great thing about this intervention, in addition to improving the entire area, is the impact it will have on the small merchants who operate here, improving their income, which will be beneficial for the living conditions of their families, and said that "this is tourism with a human face".
The project includes the creation of an integration plaza of 408 mts2 in wooden pergolas, as well as a 427 mts2 table area, and landscaping with existing vegetation.
In addition, it will house 18 food sales modules (9 type one, 1 type two and 8 type three), with all their equipment: stove, sink, freezer, tables, chairs, stools and storage areas. It will also be equipped with restrooms, security areas, exercise areas, children's areas, lighting, signage, among other facilities.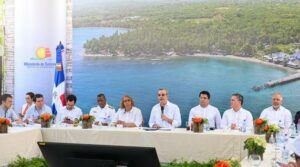 There will also be parking space, giving access to the POLITUR detachment in the area.
During the event, Minister Collado was accompanied by Franklin Rodríguez, senator of San Cristóbal province, Pura Casilla, governor; Angela Dipre, mayor of Palenque.
Also, Patricia Mejía, vice minister of Destination Management of MITUR; Minoru Matsunaga, director of the Tourist Police (POLITUR); Gabriel Español Seijas, director of CEIZTUR; local and municipal authorities, among other personalities.
Sabana Grande de Palenque
It is the oldest Municipal District in the province of San Cristóbal. It is a beautiful municipality caressed by the waters of the Caribbean Sea; with its black sand beaches and crystal clear waters, as well as a wide range of culinary offerings.
Palenque is a destination for relaxation, enjoyment and fun; perfect for those seeking peace and tranquility for the scenic beauty offered.
The province of San Cristobal has a great tourist diversity, located near the Dominican capital. It has historical areas: monuments and national heritage sites, from beaches to hiking.
Learn More: TOURISM