These bank financings have allowed the construction and remodeling of more than 15,000 rooms and have represented the growth of some 28,000 jobs.
Banco Popular continues to be an important support and ally of Dominican tourism, and in the last eight years has approved financing to support this industry for more than US$1.6 billion.
The institution is also clear that this is a sector that supports hundreds of employees. It is not just any number.
"In addition, the commitment of investors is demonstrated, because we have a zero percent delinquency rate," said Juan Manuel Martín de Oliva, vice-president of the Tourism Business Area of Banco Popular, to the businessmen attending the international cocktail party held by the financial institution within the framework of the ITB International Fair, in the German capital.
"On behalf of Banco Popular Dominicano and its executive president, Mr. Christopher Paniagua, I would like to cordially welcome you to this activity (…) Juan Manuel began by saying to the attendees.
These bank financings have allowed the construction and remodeling of more than 15,000 rooms and have represented the growth of some 28,000 jobs.
"If we have managed to be a financial ally of the tourism industry, it is because of the unconditional support of all of you, our clients. Your confidence in our work and the preference you show for choosing our financial services and products is the incentive that drives us forward," he said.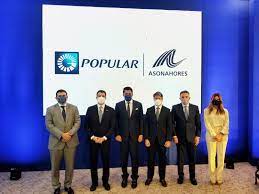 "Thank you for counting on us as partners for your business plans. Your loyalty to our company and your identification with our service philosophy have been fundamental for us to fulfill our corporate purpose of creating opportunities to make the aspirations of people and companies, whether large, small or medium-sized, a reality in an economically and socially sustainable environment," he added.
He added that we are excited to return to this tourism fair in the heart of Europe after three years. He assured that its reopening undoubtedly symbolizes the recovery of world tourism, in which the Dominican Republic participates not as one of its exponents, but as its best exponent. "The fifty-fourth edition of ITB Berlin finds Dominican tourism with very healthy indicators," he added.
And indeed, according to official data from the Central Bank of the Dominican Republic, tourism, bars and restaurants has been the only part of the economy that has grown with double digits, with 15.8%.
"We also have record visitor arrivals with a very strengthened sector and a revalidation of its enormous potential. In the working day we have seen important challenges, but undoubtedly never greater than those we have already gone through. Therefore, I am convinced, and Banco Popular is fully convinced, that with the capital we have in front of us, we will continue to grow no matter what happens," he said.
He said that in addition to the great contributions made by the hotel sector in the country, there are the favorable policies promoted by the country's authorities, headed by the Minister of Tourism, David Collado.
"This is an unprecedented public-private alliance that shows the great capacity of Dominicans when we work together. All of us rowing at the same pace have managed to put national tourism at cruising speed, for the benefit of our people and our country," said Juan Manuel.
He indicated that the figures endorse the effectiveness of the strategy and highlighted that as recently exposed by the president of the Dominican Republic, Luis Abinader, it has been for the first time that the country received more than seven million tourists by air and one and a half million cruise passengers, for a total of eight and a half million tourists. "It is something really impressive for our country," he said.
Official figures that speak
Juan Manuel Martín de Oliva recalled that, in 2022, the country also reached a historic milestone by receiving some 8.4 billion in tourism revenues, surpassing any previous record. The outlook is much rosier.
"There are those who say, including our minister, that the Dominican Republic is in fashion. I believe it is much more than a fashion, because fashions can pass. I am sure – and so are those present here – that the Dominican Republic has reached an unstoppable speed and that it will be much more than a fashion. There are not many countries in the world that can show these figures and this growth potential," he said.
Clear vision of the future
Banco Popular clearly saw, more than three decades ago, that tourism would become a cornerstone to sustain the sustainable development of the country. "Since then, we have accompanied our clients in the sector with a team of highly trained professionals who offer legal financial advice and long-term vision."
Reviewing the entire journey that Popular has traveled, as a tourism bank, the banking executive cited the commitment made to the tourism industry to support its growth.
"We look to the future with optimism, envisioning enormous opportunities that will continue to add value to the Dominican tourism offer." That offer to which he refers is one that is world class, innovative and that every day is capable of demonstrating a success story. "On behalf of Banco Popular Dominicano, I would like to reiterate our commitment to serve you with proactivity and closeness.
We are truly happy to grow together in favor of the Dominican Republic and work to ensure that the tourism sector and our country will always fly the world flag."
He assured that entrepreneurs and those who wish to invest can always count on Banco Popular to achieve their objectives. "We wish you every success in your ventures and we will be there with you," he posed.
Source: Mitur.gob.do
Learn more: NEWS