The construction of Port Cabo Rojo begins this week, after obtaining the environmental license. The tourist activity in the south of the Dominican Republic will economically benefit the population of Pedernales and the Enriquillo Region.
On April 21 of this year, the concessionaire of the Port Cabo Rojo port obtained from the Ministry of the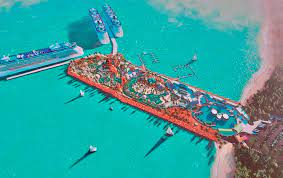 Environment and Natural Resources, the environmental license number 0489-23, which authorizes the construction and operation of a cruise terminal.
Port Cabo Rojo becomes the first tourist port to be built in the south of the Dominican Republic, impacting the economic development of the region by supporting productive activities, entrepreneurship, the generation of new micro, small and medium enterprises, and the creation of decent jobs that in the construction phase will reach 1,500 direct and indirect jobs and in the operation stage will consolidate the 1,500 direct and about 2,160 indirect jobs.
Source: 7dias.com.do
Learn more: NEWS