The Pro-Pedernales Trust Fund, developed by the Government through a public-private alliance, will have a positive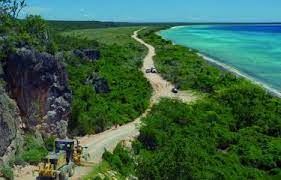 impact on Pedernales, allowing it to achieve a greater development of ecological tourism, to have more infrastructure works and the creation of other productive activities that will develop exports, especially in agriculture and the increase of mining and industry.
This was stated by the president of the Dominican Association of Exporters (Adoexpo), Elizabeth Mena, who emphasized that large-scale tourism investment, under the sustainability criteria indicated Pedernales will have, will contribute to boosting the economy of the area.
"Undoubtedly, we are talking about the most important project in the southern region, promoting productive development and the generation of wealth and jobs in this province, which its residents have been demanding for many years," she explained.
He affirmed that the trust would allow Pedernales to consolidate and diversify and technify its agricultural production of fruit trees (avocado and mango), livestock (sheep, goats, cattle, poultry) and fishing (tilapia production).
The trust, he said, would be the channel to provide Pedernales with the necessary infrastructure to increase the export of agricultural products.
Source: Arecoa.com
Learn more: TOURISM