Green Tourism Gold Ecological Sanctuary, makes Monte Plata from being the third poorest province in the Dominican Republic, to one of the richest, how did what seems to be an economic miracle happen? More than 40 emblematic companies from the United States, Israel, Spain, Puerto Rico and the DR, during five and a half years working from the platform of Cooper Horowitz Real Estate Financing Inc. in New York, created a Private Investment Fund, with the participation of J.P. Morgan, Merrill Lynch Bank of America and Morgan Stanley, for tourism projects in our country.
But not only a Private Investment Fund was made, but a Business Model was created, which allowed to solve the financial intermediation, we achieved with this Business System that a Property Title in the Dominican Republic can be accepted as a guarantee in any Bank in the United States, because we have all the financial products required by the Real Estate Business Market of the United States, applicable from our country, all this for Green Ecological Sanctuary Gold Tourist Projects, Private Members Clubs and Retirement Cities.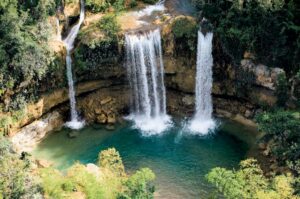 The Province of Monte Plata has been approved as an Ecological Sanctuary Gold is part of the BIG PROJECT: Province of Monte Plata, Tourist Pole One, Samaná and María Trinidad Sánchez, which is the New Tourist Geography, where for the first time the Green Tourism for rich families will be seen, which will propitiate the Integral Development of each community, giving a great value to the land, and all that is produced can be certified as Organic Agriculture.
Popular Ecological Tourism, Ecotourism, Adventure Tourism, Village Tourism, Agro-Tourism will be developed, the good will and support of the Business Office of the Embassy of the United States, has been a great help in the whole process, which allows us to affirm with certainty, that the Green Tourism changes the national Tourist Geography, and that the Monte Plata Province stops being the Cinderella to be one of the richest Provinces of the country, with the favor of God. MBL.
Learn More: News