The agreement between the three institutions will include two program modalities to be developed by PUCMM: the recognized Massive Open Online Courses (MOOCS) and the Online Certificate Program.
IE University, the Ministry of Tourism and the Pontificia Universidad Católica Madre y Maestra (PUCMM) signed an agreement to offer online courses in the area of tourism from the Dominican Republic, endorsed by the World Tourism Organization (UNWTO), through its Tourism Online Academy (TOA).
The agreement between the three institutions will have two types of programs that will be developed by PUCMM: the recognized massive open online courses (MOOCS) and the Online Certificate Program.
PUCMM acts as an academic partner in this agreement. The agreement establishes that the Massive Open Online Courses (MOOCs) will include multimedia content, activities and assignments with a duration of eight to 10 hours.
MOOC videos and readings will be free to access, while assignments, feedback and the possibility of obtaining a certificate of completion of the MOOC will be available for a fee, but at a very affordable price.
In turn, the Online Certificate Program consists of a high-level course that includes a catalog of multimedia content, readings, videos and other learning materials, such as articles, presentations, podcasts, among others, and its duration is estimated between 30 and 40 hours of study.
In this case, a certificate endorsed by the Tourism Online Academy (TOA) and the PUCMM will be awarded at the participant's expense.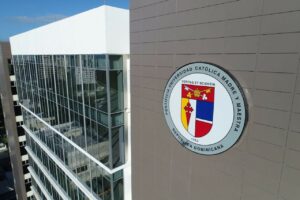 This agreement was announced during the "XXXIV Commercial Exposition" of the National Association of Hotels and Tourism of the Dominican Republic (ASONAHORES) in Punta Cana, in the presence of the secretary general of the UNWTO, Zurab Pololikashvili, the vice rector of Administration and Finance of PUCMM, Iluminada Severino, and the vice minister of Tourism, Carlos Peguero.
The courses will begin in January 2023 and will include topics such as strategic hotel and gastronomic marketing, budgeting and costing in hospitality, tourism destination management, tourism sustainability, and entrepreneurship and innovation in tourism.
In this agreement, TOA/OMT will provide the platform, technical assistance, support and will supervise the academic quality and relevance of the contents, while PUCMM will develop the courses and will place the contents on the platform in accordance with the guidelines of the international organization. MITUR will act as the coordinating entity and will be in charge of ensuring the relevance of this training offer, according to the needs of the sector.
The Tourism Online Academy is a learning platform that provides fully online courses, created in partnership with UNWTO and the Spanish IE University.
The programs are designed to provide students with access to up-to-date content on tourism, addressing the challenges facing this sector such as globalization, the digital revolution, travel marketing and sustainability.
Learn More: DEVELOPMENT