By May of this year, the Punta Cana Group plans to inaugurate the expansion of Terminal B of the Punta Cana International Airport, which would have a capacity to mobilize 3 million passengers, and with which they seek to boost the arrival of tourists to the Dominican Republic.
The information was offered this Thursday by Paola Rainieri, senior vice president of Public Relations, Communications and Marketing of the Punta Cana Group, who explained that the project is in the final phase, making it one of the largest terminals in the country, with thirteen new airport positions, many of which are already in use.
"The truth is that the movement at the airport is a lot, and we are already in the designs for Terminal C, which we will probably have in two more years," said Rainieri.
He also stressed that when Terminal C is finished, the airport will have the capacity to handle between 7 and 8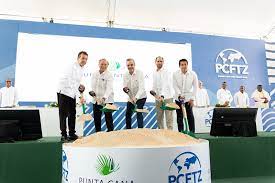 million passengers. "With this we are going to guarantee a first-class service, which is what we are always looking for for our passengers."
Regarding the pre-check-in of U.S. tourists at the Punta Cana airport, Rainieri said "clearance is a very important project not only to reach 10 million tourists, but to be able to receive an unlimited number of tourists, because this opens the doors to all U.S. airports, not only the international ones, that is the great advantage that regardless of the destination from where you leave, being an airport you can land directly in the Dominican Republic, something that cannot be done".
The businesswoman explained that to come from the United States to the Dominican Republic you can only leave from international airports and not from small terminals, and with this project the airlines will be able to reduce costs because the international airports are cheaper. In addition, they will be able to have more destinations arriving directly to the country.
Rainieri spoke on the subject after the Ministry of Tourism's presentation on tourist arrivals at the end of February.
Source: Acento.com
Learn  more: NEWS