Rural tourism comprises tourism activities carried out in rural environments, where the value proposition is created from the daily activities of the environment, with the integration of its communities, where the raw material is based on its culture, nature and the daily life of its people.
The World Tourism Organization (WTO) states that this type of activity, developed in non-urban environments, requires low population density, landscapes and land management where agriculture and forestry are essential elements.
The barometer prepared by that organization, in January 2022, proposed a growth of the tourism sector in a slope that will remain constant, with increases ranging from 30% to 78%, with very marked trends, such as:
More travel to domestic destinations.
Increases in short getaways.
Trend of last minute bookings.
Increased demand for tourism products related to nature and outdoor activities.
High inclination towards rural tourism.
Increased awareness of sustainable, sustainable and responsible tourism.
Since 2007, the Dominican Republic has included leisure experiences in rural areas as part of its strategy to develop a diversified tourism offer, being these the spearhead of emerging destinations, such as San José de Ocoa, Constanza, Jarabacoa; and traditional enclaves such as Puerto Plata.
The community of Llanos de Pérez in the municipality of Imbert in Puerto Plata was the first place where a rural tourism project was launched in which the community was integrated to sustainably offer a differentiating product within the framework of a protected area, Los Saltos de Damajagua.
In 2007, some 35,000 tourists visited this natural monument, which in 2019 received its highest peak of visitors with some 119,000 tourists, a visitation record surpassed this November 2022 in the face of a niche market in constant evolution.
The Covid19 pandemic has further humanized tourism activity, making rural tourism a growing activity and a fundamental axis of tourism recovery in a large number of countries.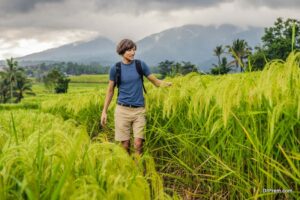 With a view to the future, within the framework of a diversified tourism strategy, the Dominican Republic faces important challenges for a definitive development of its rural tourism, among the most relevant are:
The creation of public policies that favor the creation of new rural tourism proposals and the organizational strengthening of existing ones.
The integration of rural tourism into MITUR's tourism intelligence system, so that the existing offer, economic flow and potential by geographic area can be known.
The promotion and development of an academic, technical-professional offer, linked to rural development and the cross-cutting areas that impact it.
The generation among locals and visitors of a commitment to the preservation of the environment.
The reduction of the digital divide in rural communities, making use of new technologies for the promotion and marketing of rural tourism.
Aware that rural tourism is one of the most humane ways to connect with communities and their environment, we understand this form of tourism as an option for tourism diversification in these new times.
Learn More: TOURISM