San Juan de la Maguana's potential to attract new foreign investments highlighted
González Nicolás considers that the lack of approval of the environmental and social studies of the Romero mining project in that province is an obstacle to new investments.
The president of the Round Table of the Commonwealth Countries in the Dominican Republic, Fernando González Nicolás, highlighted the potential that San Juan de la Maguana has to attract new foreign investments necessary to create jobs and economic development in this province.
He added that based on the experience in attracting investments from the Commonwealth nations to the Dominican Republic, he can affirm that San Juan has the conditions to attract new opportunities in different areas. It has been proven that foreign investment and international trade are factors that contribute to the generation of jobs and wealth.
Gonzalez Nicolas gave the example of the banana industry in the northwest, where this sector has created thousands of jobs and more prosperity in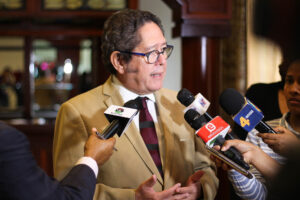 Montecristi, Santiago Rodríguez, among other provinces.
He added that similar to what was done in the northwest, could be done in the region of San Juan with other products.
However, he indicated that in San Juan there is a situation that hinders the attraction of new investments since more than 2,500 international investors are being negatively affected with an investment of 40 million dollars made in the Romero project in San Juan.
These investors from Canada, Australia, Great Britain and Switzerland are waiting for the law to be complied with and for the environmental and social studies to be authorized. These studies would confirm the feasibility of a possible mining exploitation there, in case of a negative result this project would not be carried out, which is understood by the investors.
The studies are risk-free and on the contrary would guarantee that San Juan's water and environment will not be affected. It would also open the doors to new investments and opportunities.
Finally, González Nicolás urged all sectors, especially the community of San Juan, to understand the need to comply with the law and the convenience of being guided by science.
Learn more: NEWS