The hotel school Serranía has introduced important changes in its conditions of access to technical careers, in order to offer more facilities and allow young women to study technical careers in hotel management and gastronomy "from outside, without staying in our facilities".
In a press release, the educational center informs that "from now on, external students will be able to study without having to stay in Serranía, but only to attend outpatient courses and carry out their internships in hotels and restaurants managed by the school itself."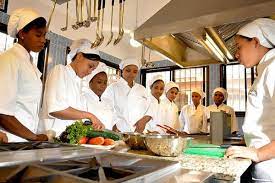 Among the changes, Serranía has also modified the admission requirements, which include being a woman, with a high school diploma, 18 years old and without age limit, married or single, with or without children, and passing the selection tests that are administered.
Among the careers offered by Serranía are: bakery and pastry technician, with 1,045 hours of instruction; hotel reception and food services technician, with 800 hours of instruction; bar and restaurant technician, with 920 hours; gastronomy technician, with 790 hours of instruction; hotel floor management technician, with 455 hours of instruction; and English technician, with 610 hours.
In addition to the mandatory training for all courses, Serranía teaches 30 hours of human training, 20 hours of oral and written communication, 50 hours of computer basics and 100 hours of technical English in each area.
All courses are free of charge and the diplomas are issued by Infotep, which gives them international recognition.
Admission tests will be held between May 22 and 27, starting at 8:00 am. Interested parties can call 829 383 9425 for more information and to register.
Source: Mitur.gob.do
Learn more: NEWS