Sevillian exports increased by more than 50% in 2022, with products and services that exceeded 21 million.
Business opportunities in the Dominican Republic, a country growing in recent years and where Sevillian investments have increased, have focused a meeting held by the Chamber of Commerce of Seville, in collaboration with Prodetur, and the ambassador of the Dominican Republic in Spain, Juan Bolivar Diaz.
The meeting was attended by a group of Sevillian businessmen from the agri-food, engineering, construction, capital goods and logistics sectors, among others, interested in learning about the opportunities offered by the Central American state.
All in light of the good data on Spanish exports to the Dominican Republic, which is reflected in the case of Seville. For example, Sevillian exports increased by 50% in 2022, with products and services that exceeded 21 million euros.
In the Andalusian case, they did so by 85% with products and services that exceeded 80 million euros and already in total Spain, they reached an increase of 36% with products and services that exceeded 800 million euros.
According to the Dominican ambassador, Juan Bolívar Díaz, these figures can be explained by the legal security and incentives for foreign investment. Other aspects highlighted at the meeting in Seville have been the measures for trade openness and integration.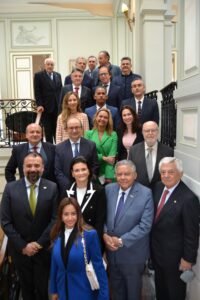 The expectation is that aspects such as these will make the country grow 4.8% by 2023, and 5% by 2024.
What does this scenario imply for Sevillian companies? In the opinion of the president of the Chamber of Commerce, Francisco Herrero, an enormous potential in sectors such as renewable energies or hotel tourism on the coast and in the capital.
Especially considering that the country is expanding its tourist attractions beyond the sun and beach and is now exploring the promotion of water sports, golf, cruise tourism or fishing, said the counselor for Commercial Affairs, Investment and Tourism of the embassy, José Manuel Vargas.
With eight international airports and great natural resources for new business projects, it also seeks to be a priority destination for business investment.
In the Sevillian appointment has also presented the Alma Project, an event that will take place in Santo Domingo in November and in which, for four days, will bring together entrepreneurs, professionals, companies and Spanish and Dominican start-ups from different sectors.
Source: Elespanol.com
Learn More: ECONOMY