Soltour has signed a collaboration agreement with the Dominican Republic to promote tourism to the Central American country, in an event held as part of the 43rd edition of the International Tourism Fair, Fitur 2023.
The event was attended, among others, by the CEO of Soltour Travel Partners, Tomeu Bennasar, and the vice president and CEO of Grupo Piñero, Encarna Piñero, as well as the deputy minister of Development of the Ministry of Tourism of the Dominican Republic, Tammy Reynoso.
The company has pointed out that this agreement with the Dominican Republic, which consolidates the "already traditional" relationship with this Caribbean destination, is in line with its goal of offering agencies "innovative" solutions through a variety of products to boost their competitiveness and leadership in the sector.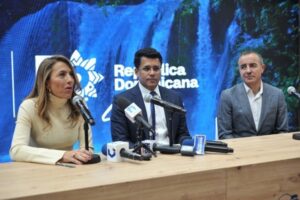 The main novelty for this year will be direct flights from Lisbon and Madrid to Samaná, in addition to new products such as golf packages, with which to attract an "increasingly higher" traveler segment.
"This alliance reaffirms the continuity of the close relationship between the company and the Dominican Republic. We anticipate that 60,000 trips from Spain and Portugal will visit the country this year," said Bennasar.
The collaboration has been sealed with a unique culinary experience with Chef Tita, one of the country's most important gastronomic figures, from the Morisoñando restaurant. Chef Tita, through a live showcooking, offered a gastronomic journey through the different regions of the Dominican Republic to the attendees of the Soltour Summit.
Source: Bolsamania.com
Learn More: DEVELOPMENT