Within the framework of the IX edition of the Dominican Week in the UK, Dominican tourism had a great participation with representatives that showed the same objective, to consolidate commercial relations and promote the development of the sector in the Dominican Republic.
The activity was sponsored by United Petroleum and Gulf Oil Dominicana, which brought together a large delegation of 110 businessmen and officials from the DR and the UK.
At the conference "Dominican Republic Travel Industry Today", which was presented by Paola Rainieri of Grupo Puntacana and Andrés Marranzini, executive vice-president of Asonahores, the important boom of the tourism sector in the country was made known.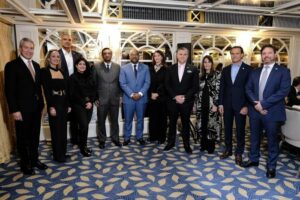 The speakers highlighted the great portfolio for the enjoyment of tourists in our country. They made it known that the Dominican Republic is an ally of development opportunities in the tourism sector.
The event was attended by Juan Tomás Diaz, CEO of United Petroleum and member of the Board of the British Chamber of Commerce; Mockbul Ali, British Ambassador to the Dominican Republic; Amauris Vasquez, president of Britcham; Pablo Portes, Pedro Lama, Angie Berges, Manuel Cabral, Leonel Melo, Javier Tejada, Manuel Luna, among others.
Learn More: TOURISM