President Luis Abinader and the Minister of Tourism, David Collado, completed yesterday an agenda aimed at reinforcing tourism activity in the Colonial City.
Among the activities carried out by the officials, the first kick-off was given to formally start the rehabilitation works of the main streets of the Zone and the "Turizoneando" program was inaugurated.
These activities were carried out as part of the works included in the Integral Program for the Tourist and Urban Development of the Colonial City of Santo Domingo, which, according to the authorities, will have an investment of almost five billion pesos.
To start this program, the political leaders explained that an intervention will be made in eleven streets of the Colonial Zone, in order to improve their pavements and sidewalks, undergrounding of cables, replacement of drinking water, among other rehabilitation works.
The program's street project will cover 4.7 kilometers, prioritizing the following eleven: Las Damas, El Conde, Hostos, Luperón, Salomé Ureña, Duarte, 19 de Marzo, José Reyes, Las Mercedes, Arzobispo Nouel and Padre Billini.
Prior to the kick-off, the head of state and Minister Collado led the launching of the "Turizoneando" program, an alternative created with the objective of encouraging recreation in the Colonial Zone.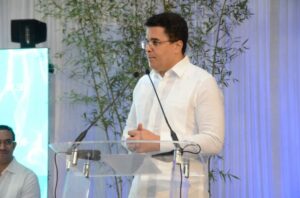 At 10:50 a.m., the President arrived at Colon Park and toured the surrounding area to share with visitors and get to know the different attractions that exalted Dominican culture.
During the activities, President Abinader reiterated his commitment to the Colonial City, the main historical, tourist and cultural epicenter of the Dominican Republic.
"Let's work in this space, because we take advantage of it, let's make this treasure shine more, protect it, sustain it and let it be here as a legacy of our country," said the head of state.
Competitive offer
Meanwhile, Minister Collado recalled that since he was mayor of the National District he has given his full support to the works being developed in the Colonial City.
"One of the main reasons why we are promoting these projects is seeking to strengthen tourism in Colonial City, through a competitive offer, so that the commerce and citizens of this historic center perceive the benefits derived from the increase in tourist activity."
Learn more
The initiative.
The program is carried out within the framework of a US$90 million loan signed between the Dominican government and the Inter-American Development Bank (IDB),
Authorities.
The event was also attended by the Minister of Culture, Milagros Germán; the mayor of the National District, Carolina Mejía; the IDB Group's representative in the country, Katharina Falkner-Olmedo, and the coordinator of the Program Coordinating Unit, Amín Abel Santos.
Learn More: TOURISM