Just a few weeks after announcing the initial construction of the new Samana Bayport cruise terminal in the Dominican Republic, the results have come from the start of cleanup and adaptation work on the site.
According to statements by executives of the Consorcio de Terminales Marítimas de Samaná (Temarsam), the project is shaping up to be "the catalyst for the tourism, economic and real estate development of Samaná and the entire northeastern region of the country".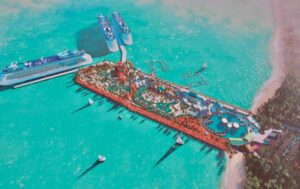 Federico Schad, president of the Temarsam Consortium, assured that Samaná was the great jewel in the crown of Dominican tourism, but unfortunately it had not been possible to develop a project like this, which would give back all its splendor not only to the town of Santa Bárbara but to the whole province. "That is why this terminal is so important, it will be the entry point for tens of thousands of tourists who will witness the beauties of this province and the entire northeastern region of the country. These tourists will be the same ones who will come to invest in the real estate sector and, above all, they will be the ambassadors of this great destination," he stated.
The process of adapting the land that will house the cruise terminal includes, in addition to the cleaning and environmental adaptation, the movement of earth, the design and projection of the foundations of the docks, among other works.
The company assured that its focus at this time is to begin construction work on schedule, with a view to completing Phase I of the cruise terminal by mid-2023.
Learn More: CRUISES