The Government, through the Special Fund for Agricultural Development (FEDA), will start in January in this province the Relaunching Plan of the Coconut Subsector, which is expected to cover 300 producers from different areas of the country.
The producers will receive 150,000 of these plants in the varieties Enano Brasileño, Malayo and Porte Alto del Atlántico, for the renewal of old plantations and the beginning of new plantations in different communities, with emphasis on those affected by hurricane Fiona.
The announcement was made by the director of FEDA, Hecmilio Galván, while reporting on a tour of the province of Samaná, where he delivered 4,000 coconut plants to producers and organized a training session on coconut cultivation carried out by FEDA technicians.
Galván informed that 150,000 coconut plants of the varieties Enano Brasileño, Malayo and Porte Alto del Atlántico are being acquired for producers in Samaná, Hato Mayor, Nagua, El Seibo and Higüey and other areas to initiate the Coconut Subsector Plan, which will include support for production, consumption and industrialization.
The donation of the plants marks the beginning of the Dominican Republic's Coconut Subsector Relaunch Plan developed by FEDA, for which more than 50 training sessions have been held throughout the country, with the participation of 2,500 producers and interested parties.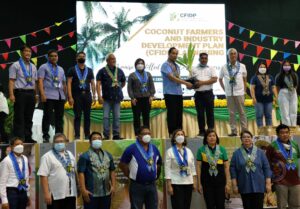 The 150,000 certified coconut plants will join the more than 40,000 plants already distributed by FEDA as motivation for the plan in different provinces of the country.
During the tour of Samaná, the official also visited the associations of Mujeres Hacia el Futuro de La Pascuala and Mujeres Acción de Samaná, with whom FEDA will develop and finance two support projects for the production of coconut oil and coconut candy, respectively, which are in the formulation phase.
Galván highlighted the importance of the coconut and said that everything is used from this nut: its water, milk, dough, jícara and fibers, as well as oil, sweets are made and it also adds beauty to the landscape of tourist areas. He reminded that to be beneficiary of the donation of these coconut varieties, the producers must have participated in the training workshops given by FEDA technicians.
He pointed out that the demand for coconut and its by-products in the world is unsatisfied and is growing eight times more than the supply, which is why the production of this fruit and its by-products is a strategic opportunity for the country.
The tour, which included a lunch with journalists and agricultural leaders, was also attended by Demetrio Vicente, from the Ministry of Public Health and social leader of Samaná; the deputy Ramón Aníbal Olea and the councilman Carlos Payano, among other personalities of Samaná.
Learn More: NEWS