The Santo Domingo Hotel Association (AHSD) and the Santo Domingo Tourism Cluster (CTSD), recognized the excellent work of Minister David Collado at the head of the Tourism Cabinet, which has led to surpassing the pre-pandemic figures in tourist arrivals and hotel occupancy.
Yudit Garcia, president of the Santo Domingo Hotel Association, presented a plaque of recognition to Minister Collado, highlighting his work at the head of the Tourism Cabinet, from where he has maintained an energetic commitment and leadership that have allowed the recovery of the tourism industry, bringing solutions to every tourist destination in the country and taking tourism to every corner.
"Dominican Republic is today an example of good practices, being the number one country in the recovery of tourism worldwide. This success was confirmed in the most recent version of FITUR, with an outstanding stand and participation, as well as in the multiple roadshows held in the main tourist-sending markets, which have borne fruit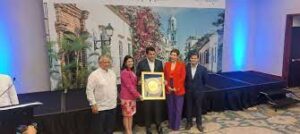 that can be seen in hotel occupancy in the capital and the growth of events in the city," concluded Yudit Garcia.
Mónika Infante Henríquez, president of the Santo Domingo Tourism Cluster, also recognized the minister's "commitment, leadership, tireless work and ability to bring together and listen to all the actors in the value chain of the tourism industry, seeking efficient and timely solutions, which have been the determining factor for the growth of tourism, which our country is celebrating today, with record arrivals figures".
The activity was attended by the president of ASONAHORES, David Llibre, the members of the Board of Directors of both organizations CTSD and AHSD, as well as hotel businessmen, general managers of hotels in the city, representatives of the banking sector, as well as specialized media and allies of the tourism sector.
The Santo Domingo Tourism Cluster and the Santo Domingo Hotel Association reaffirmed their commitment and willingness to continue working in permanent alliance with MITUR and all the institutions and organizations of the public and private sectors with a presence in Santo Domingo to strengthen the city brand, confident that together they will continue to promote the sustainable growth of tourism in Santo Domingo.
Source: Mitur.gob.do
Learn more: NEWS