Guests of Sanctuary Cap Cana, Hyatt Zilara Cap Cana or Hyatt Ziva Cap Cana were relocated to another property.
The Playa Hotels & Resorts chain, temporarily closed the Sanctuary Cap Cana, Hyatt Zilara Cap Cana and Hyatt Ziva Cap Cana resorts until Friday the 23rd, due to the direct impact of Hurricane Fiona in the country.
"We are pleased to report that our guests and associates suffered no hurricane-related injuries," Playa Hotels & Resorts said in a statement posted on its website.
It indicated that guests of Sanctuary Cap Cana, Hyatt Zilara Cap Cana or Hyatt Ziva Cap Cana were relocated to a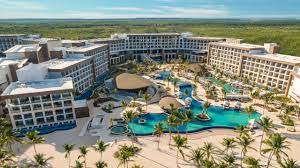 sister property or if they wish may opt to leave early without incurring penalties.
"Our teams will immediately begin assessing the impact of the storm on our properties in the region," the statement stressed.
It also stressed that the resort's staff has the training, resources and experience to keep guests safe.
Hurricane Fiona, a category 1 hurricane, greatly affected the eastern region, causing damage to hotel infrastructure, as well as homes, restaurants in the beach area and the suspension of electric service.
Asonahores
The Association of Hotels and Tourism of the Dominican Republic (ASONAHORES) said that most of the damages caused by Hurricane Fiona "were reported in terms of gardening and access to streets, which have been rapidly being assisted, both by the Dominican authorities and by the brigades of the hotels themselves".
Asonahores said it had carried out "an initial survey of the damages caused" by Fiona and highlighted "the correct risk prevention protocol carried out by the member hotels of the guild, where no incident with tourists or employees has been reported".
IDAC
Likewise, the interim general director of the Dominican Civil Aviation Institute (IDAC), Héctor Porcella, informed that the international airport of Punta Cana resumed its flight operations on Monday after its temporary closure due to the passage of Fiona, and that the Las Américas International Airport (AILA) is also operating normally.
However, he clarified that flights to and from the airports of Arroyo Barril in Samaná and La Romana are still suspended, but that as the effects of the hurricane diminish, operations will be resumed in the other air terminals that had to be closed.
Learn more: NEWS