JUNE 2019
Between January and April, the country received 2,460,423 foreign passengers and non-resident Dominicans by air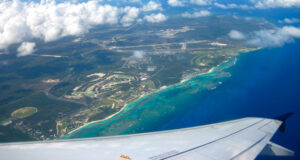 The arrival of tourists to the Dominican Republic grew by 4.8% in the first four months of the year compared to the same period in 2018, the Central Bank (BC) reported Friday.
The data from the issuing bank indicate that between January and April, the country received 2,460,423 foreign passengers and non-resident Dominicans by air.
When the resident travelers are added, the total arrival of passengers by road amounts to 2,670,685, which represents an increase of 4.8% compared to the first four months of 2018.
The information, published by the BC on its website, adds that 64.5% of the passengers that visited the country in the first months of the year arrived from North America, 21.7% from Europe, 10.6% from South America, 2.8% from Central America and the Caribbean and 0.4% of Asia and the rest of the world.
The data reveal a 3.4% decrease in the arrival of tourists from South America, as a result of the decrease from Argentina, Venezuela, Peru and Uruguay.
However, he highlighted an increase from Colombia, Brazil, Chile and Bolivia.
Regarding arrivals from Europe, the BCRD reported a contraction of -3.7%, especially due to the decrease from Germany, England, Sweden, France and Portugal, partially offset by increases in arrivals from Russia, Poland, Ukraine and Italy.
66.7% of the tourists arrived through the Punta Canta airport (east), 15 by the Las Américas airport, in Santo Domingo; and 9.2% for Puerto Plata (north).
Meanwhile, the terminals of La Romana, Cibao, La Isabela and El Catey de Samaná, received the remaining 9.1% of the total number of foreign visitors who visited the country between January and April.
The Dominican Republic has its main source of income in tourism, and, according to official figures, in 2018 it received 6.5 million tourists and 1 million cruise passengers.
Revenues from tourism totaled 7.6 billion dollars last year, according to the same figures.