MITUR starts work on the improvement of the seawall of La Caleta, La Romana.
The work will be executed for an amount of 96 million pesos and will have a positive impact on the municipalities.
As part of the program for the renovation of the country's tourist destinations, Minister David Collado started the works for the "Improvement of the seafront of the Caleta Municipal District, La Romana province".
This work of beautification of public spaces will have a cost of RD$96,000,000 and includes the renovation of 600 linear meters of paved road and concrete sidewalks, from La Playita Park to Botello Park.
Minister Collado highlighted the importance of this intervention, which will make this destination more attractive.
"By initiating these works here in La Caleta, we are fulfilling a long-standing demand and we continue to comply with our program of turning every corner into a tourist destination," said Collado.
The work also includes storm drainage with a system of pipes, collectors and complementary installations to collect runoff water from rainfall, such as scuppers, filtering wells and grates.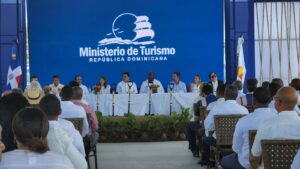 The work will facilitate communication between the town and important and emblematic places of tourist interest.
The intervention also includes the reconstruction of infrastructure, the renovation of Mirador Vista Catalina Park (formerly Parque Botello) and Playita Park, viewpoints with benches and urban equipment, as well as road conditioning and works of art.
Also, electrical installations and lighting, storm drainage solution, landscaping, green strips on both sides of the vehicular and pedestrian traffic lanes, gardens in the internal area of the leisure space and Almácigo trees.
The work will be carried out by the Executing Committee for Infrastructure in Tourist Zones (CEIZTUR).
In addition to Minister Collado, the activity was attended by the vice-ministers of Tourism, the general director of CEIZTUR, Gabriel Español, among other personalities, as well as local authorities.
Learn More: NEWS