Corporación Multi Inversiones (CMI) announced that it plans to invest more than US$23 million in the Dominican Republic over the next three years through its food group.
This investment focused on the country is part of its business plan in the 16 countries in which it operates, which will total more than US$1.8 million and will be aimed at promoting the infrastructure, innovation and technology, and sustainability pillars of the multi-Latin company. In this way, CMI generates sustainable development with an impact on people, families and communities.
The corporation has been present in the country for more than 20 years, through its two business groups: Alimentos, which operates Molinos Modernos and Molinos del Ozama, and Capital, which has the Mata de Palma solar energy park in the province of Monte Plata.
CMI Alimentos generates more than 1,300 direct jobs and 5,200 indirect jobs. It has two flour processing plants, two distribution centers, a cookie factory and a pasta factory, as well as a broad food portfolio of more than 20 categories.
Guided by its purpose "We feed your world to fill it with well-being", CMI Alimentos offers safe and quality products that are part of the local tradition, with brands such as Blanquita, Panadero, Primavera and Ozama flour; Hatuey, Guarina, Dino and ChocoWOW cookies; Milano pasta; Rufo pet food, among others.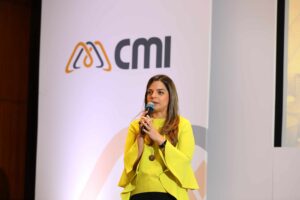 In terms of sustainability, the corporation works in line with the Sustainable Development Goals (SDGs). In particular, in the Dominican Republic it has a Training and Development Center, which offers training programs that enhance the growth of its bakery and entrepreneurial clients' businesses. In the last three years, it has benefited more than 9,000 people.
"We believe in the opportunity to grow together and in economic inclusion. This is embodied in projects such as the Training and Development Center, where we provide the bakery sector with training in budget design, cost and inventory management, new product development, customer service, promotion, quality control, among others," said Fátima Pereira, director of Corporate Affairs and Sustainability CMI Alimentos.
In 2021, CMI Alimentos was recognized by AES for its contribution to environmental sustainability with the use of carbon neutral natural gas in the manufacturing processes of its products. With these and other efforts in its regional food operations, it has avoided more than 110,000 tons of CO2 in the last eight years.
The information was released at an executive breakfast attended by CMI leaders and economics editors from major media outlets.
Learn More: DEVELOPMENT