The minister assures that the values of economic freedom, public-private alliances, independence of justice and free competition are the elements that govern this government.
The Minister of Industry, Commerce and Mipymes, Víctor -Ito- Bisonó, affirmed that the Dominican Republic is a country of reference in Ibero-America and exhibits records in exports, growth of free zones, collections, the fight against illicit activities, the increase of financial reserves and the creation of employment, and "this is freedom".
Bisonó assured that the vision of the administration of the State, the values of economic freedom, public-private alliances, respect for the laws, institutionalism, independence of justice and free competition are the elements that govern this government.
"We see how, even in turbulent situations, from our country, we exhibit positive actions and projects that put us in the sights of other nations", one of them is the Alliance for Development in Democracy (ADD) with Panama, Costa Rica and Ecuador.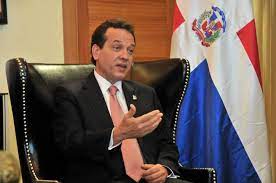 He stressed that this is multilateralism at its best, bringing tangible results for the people and contributing to cooperation between countries to achieve a common goal. "Democracy and freedom are the best recipe for success."
Bisonó highlighted that despite the inflationary effect experienced by all countries, the Dominican Republic has been able to contain inflation, which in 2020 reached 5.6% and bring it to 6.0% in September 2022, with growth projections of 5.6% for this year, according to reports from the International Monetary Fund (IMF), the World Bank and the Bank of America.
He also explained that in order to encourage companies and private capital to better integrate into the production chain, the Government's management has been based on four pillars: compliance with the law and equal treatment for all market players, promoting Public-Private Partnerships (PPP), the debureaucratization of the State (with efficiency in permitting, services and the strengthening of the business and investment climate) and institutionalism.
The minister made these remarks while participating in the celebration of the 20th anniversary of the International Freedom Foundation (FIL), the international network of think tanks, which brought together 24 political leaders, former presidents, intellectuals and businessmen from America and Europe, including, along with Vargas Llosa, the presidents of Uruguay and Ecuador, Luis Lacalle and Guillermo Lasso; former presidents Felipe Calderón and Ernesto Zedillo, from Mexico, and José María Aznar, from Spain.
About FIL
The International Foundation for Liberty (FIL), created in 2002, is presided over by Mario Vargas Llosa, Nobel Prize in Literature (2010), and is made up of more than 200 intellectuals, businessmen and political and social leaders from Latin America, among them Carlos Alberto Montaner (Cuba), Álvaro Vargas Llosa (Peru), Ian Vásquez (United States), Lorenzo Bernaldo de Quiroz (Spain), Rocío Guijarro (Venezuela), Enrique Ghersi (Peru), Roberto Salinas León (Mexico), Alejandro Chafuen (United States) and Dora de Ampuero (Ecuador).
Learn More: COMMERCE