As part of the celebration of the Dominican Week in the state of Qatar, a delegation of the Export and Investment Center of the Dominican Republic (ProDominicana) participated in the Qatar AgriteQ International Agricultural Exhibition, with the purpose of Dominican agriculture sectors to exchange knowledge and take advantage of business opportunities in this vital sector.
In this regard, the ambassador of the Dominican Republic in Qatar, Georges Bahsa Hazim, inaugurated together with ProDominicana's Export Manager, Segismundo Morey, and other representatives, the Dominican Republic Pavilion at the tenth edition of AgriteQ (Qatar International Agricultural & Environmental Exhibition 2023).
Biviana Riveiro, executive director of ProDominicana, reported that the event provided an opportunity for producers in the Dominican agricultural sector to receive agricultural technology updates on the market, in addition to knowledge of new equipment and related products.
"This meeting is key for our products and companies to meet with decision makers and also served to obtain valuable information, discover practices and at the same time learn about innovation in agricultural techniques to achieve food security and sustainable development of this sector in the Dominican Republic," said Riveiro.
The delegation highlighted that export opportunities to the Qatari market are focused on the agricultural sector with the export of bananas, avocados and mangoes. In addition, the agro-industrial and industrial sectors also offer opportunities to export to that market.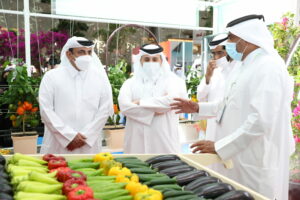 The event was attended by businessmen from different sectors, executives, professionals, academics and government authorities who carry out an interesting agenda of high-level private meetings, as well as events that bring together diplomatic representatives, officials, local businessmen and members of the Dominican community in Qatar.
It is worth noting that during the Dominican Week in Qatar, strategic visits were made to major buyers and distributors in Qatar, such as the Abu Khalifa facilities, the largest distribution center in the region. They also visited the Baladna plant, the most important dairy and juice factory for the entire region. Likewise, Segismundo Morey, representative of ProDominicana, presented the Dominican Republic's export offer and its virtues as the main investment destination in the Caribbean and Latin America.
Dominican companies present at the fair were: Landfruits SRL, Frutas Conenergias SRL, Casa DR, Grupo Bocel, INDUBAN, La Famosa, Caribbean Liquid Sugar, Macoco, Color Café, Maracuya Repostería Artesanal, Heritage, Choco Organic, P&P y Tropical Mix, KIKABONE. Buyers from the Middle East also had the opportunity to find, in the Dominican pavilion, pineapples, mangos, melons, pitajaya, peppers, lemons, coffee, chocolates, and Dominican cigars, among other products.
According to the Qatar Statistics Planning Authority, the trade exchange of Qatar and the Dominican Republic for the period 2015-2022 was USD 42.2 million and of these 96% corresponds to exports of products to the referred nation.
In this regard, among the products exported to Qatar are: electronic instruments, with 51 %; medical instruments, 24.3%, and pharmaceutical products, 4% share, among others.
Source: Presidencia.gob.do
Learn More: COMMERCE