The Minister of Industry and Commerce, Victor -Ito- Bisonó, reported that in 2022 the Dominican Republic's trade exchange with the world reached US$43,436 million dollars, for an increase of 37% compared to pre-pandemic levels in 2019.
As for Dominican exports, he indicated that they achieved an all-time record by reaching US$12,390 million, noting that these results are concrete evidence of the resilience and firmness of the Dominican export sector. He also highlighted the performance of the free trade zone sector, whose exports exceeded US$7.7 billion in 2022.
Alliances with multiple banks to promote businesses
The minister offered the figures during his participation in an intervention at the Latin American Congress of Foreign Trade (CLACE), in which he also highlighted the alliances made with multiple banks in the country to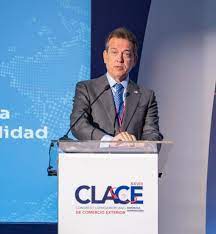 promote innovation and business digitalization through bankarization.
In this regard, he said that digitalization is a mandatory factor for the survival of companies. He explained that around 11% of the services exported in the country correspond to modern services, highlighting the creative industry and culture.
At the event, organized by the Latin American Federation of Banks (FELABAN) and the Association of Banks of the Dominican Republic (ABA), he assured that the country is ready to take advantage of the opportunities that these emerging sectors represent and the government will continue to strengthen the positioning in terms of digital commerce.
Breakdown of issues impacting foreign trade
On the first day of the Latin American Congress on Foreign Trade (CLACE), Eduardo Cavallo, senior research economist at the Inter-American Development Bank, also gave a presentation on the global outlook for international trade and the financial system.
Other topics addressed by the speakers and panelists dealt with trends and innovations in online trade and foreign trade, as well as advances in customs matters to facilitate the exporting sectors.
The CLACE congress will continue until Wednesday at the Jaragua Hotel, with the participation of national authorities, international experts and banking executives.
Source: Elcaribe.com.do
Learn more: ECONOMY