The problem of sargassum, the arrival of algae to the coasts that last June reached a new historic record, is of concern in the Caribbean, whose Regional Fisheries Mechanism (CRFM) is trying to find solutions and get economic benefits from this brown tide.
As reported Wednesday by the CRFM, it toured the affected countries together with the Plant and Food Research Institute of New Zealand, to learn first-hand how the Caribbean has dealt with this massive influx of Sargassum algae.
Sargassum natans and fluitans algae are normally found in suspension in the Atlantic Ocean and are regularly washed ashore by currents, although their excessive arrival is alarming.
The large influx of algae has adverse effects on the countries economy and its ecosystem, as it causes the death of fish and other animals, releases noxious gases and damages tourism by fouling beaches, it was reported.
New Zealand funding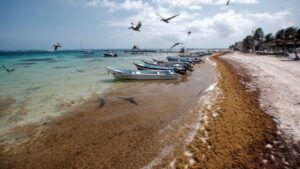 "This tour marks an important milestone in the New Zealand-funded 'Sargassum Products for Climate Resilience in the Caribbean' project, which seeks to mitigate the environmental and economic impacts of Sargassum algal blooms through the creation of inclusive value chains," the CFRM release stated.
The tour included visits to Barbados, St. Lucia, Dominican Republic, Belize and Mexico, where delegates held discussions with various stakeholders involved in sargassum collection and management.
"We were able to observe firsthand the effects of sargassum influx in the countries we visited. This gave us a better understanding of ongoing initiatives to utilize sargassum," said Beverley Sutherland, project coordinator at CRFM.
After initially gathering information, CRFM's focus is now on product and process development for sargassum-derived products.
CRFM said that, based on the analysis of the collected samples, efforts will be focused on the formulation of liquid fertilizers and construction materials with the algae.
According to a study by the Optical Oceanography Laboratory of the University of South Florida, the amount of sargassum in the Caribbean Sea, the Gulf of Mexico and the central Atlantic area increased from 18.8 million tons in May 2022 to 24.2 million tons in June, setting a new historical record.
In Puerto Rico, where the problem has been very present, the Department of Natural and Environmental Resources (DNER) called for calm at the beginning of the month, assuring that it is "a natural process". The DNER explained that this phenomenon is registered on the island every year, and recommended not to go to the beaches with the highest concentration of sargassum because of the odors it emanates.
Learn more: ECONOMY