The 43rd edition of the International Tourism Fair (Fitur) will represent new business and investment opportunities for the Dominican Republic, said the general manager of Banco de Reservas, Samuel Pereyra.
During a meeting with the press, prior to the start of Fitur 2023, Pereyra highlighted the achievements of the last edition, as well as the fulfillment of the promise to the Dominican Diaspora to inaugurate a representative office of the Bank in Madrid.
"The 43rd edition of Fitur will represent new business opportunities, new destinations, new investments for the Dominican Republic," he said.
The general manager of Banreservas, took the opportunity to highlight the institutional and financial strength of the bank, with assets representing 40.5 percent of the Dominican multiple banking market.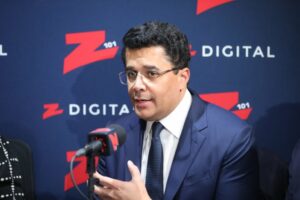 "Our assets rose at the close of the year to one trillion 23 billion pesos, up 124,838 million in relation to 2021," he said.
He highlighted that the net profits obtained in 2022 amounted to 22,025.8 billion pesos, increasing by five thousand 719 million in relation to 2021.
"This represents one of the highest absolute increases achieved by a financial institution in the country in its entire history," Pereyra said.
Banreservas is developing a program of business activities at Fitur, which includes the inauguration of a representative office this Tuesday, as well as various meetings with tourism investors.
Source: Acento.com
Learn More: ECONOMY