22% of Dominicans have increased their interest in local tourism since 2022
According to Big Data Analytics' study on public searches and conversation regarding travel trends. In the Dominican Republic, local tourism has been on the rise, with greater interest in traveling mainly to the beaches of Punta Cana, Las Terrenas and Samaná. Likewise, the cities where most interest in travel is generated are: Distrito Nacional, La Altagracia, San Cristóbal, La Romana and Samaná.
The interest in traveling and discovering new destinations has returned to the lives of many people, after the health and mobility restrictions due to the COVID-19, but what is motivating them to go out, what are the most sought after destinations nowadays? In the framework of World Tourism Day, from LLYC we elaborated a Big Data Analytics study on searches and digital public conversation to learn about domestic travel and tourism trends in three Latin American destinations: Dominican Republic, Mexico and Panama.
These search trends were analyzed from 2019 to 2022, to examine significant changes in tourism behavior in the wake of COVID-19. The mentions on Twitter, Blogs and News for 2022 total 172,000 messages from 83,000 unique users. Which has resulted in the fact that, due to the health pandemic, travel searches in these three countries dropped by up to 67%; however, the interest in travel has resurfaced, causing the search volume to increase by up to 86%, compared to 2019. In the case of the Dominican Republic at 88% compared to its 2018 peak, in Mexico it is currently at 86% compared to the highest peak it had in 2019, and Panama at 82% compared to its peak in 2019.
Domestic tourism, an opportunity for reconquest
The reality is that, nowadays, people prefer places to relax and vacation within their own territory; one of the variables to choose the destination is that they can arrive via land and with the ease of being able to choose between an Airbnb or a hotel that fits their lodging budget.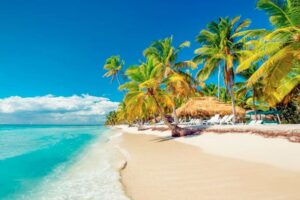 In the Dominican Republic, the trend of local tourism searches has been increasing by 22% since 2020, with interest in traveling mainly to the beaches of Punta Cana, Las Terrenas and Samana. Although the search percentage is 53.1% lower than 2017, interest in deals when planning their trips is on the rise; the cities where most interest in travel is generated are: Distrito Nacional, La Altagracia, San Cristóbal, La Romana and Samaná and among their main travel motivators are camping and hiking activities.
It is worth mentioning that among the preferences of Dominican tourists, Punta Cana, Las Terrenas, Samaná, La Romana, Bayahibe and Santiago de los Caballeros with Airbnb being the preferred option for travelers, leaving all-inclusive hotels in last place.
New ways of traveling?
Having different alternatives for both transportation and lodging, allows travelers to experience different plans and personal experiences or in company.
Interest in hotel search when planning a trip had remained on trend in all three countries until 2019, where it was surpassed by Airbnb by 1.53%. According to the LLYC study, the main factors that have influenced people's preference for Airbnb vs hotels are: price, length of stay and number of people traveling. However, what still keeps hotels in place are security and type of travel (e.g. business). In the Dominican Republic Airbnb has had an exponential growth in searches and the pandemic had minimal negative impact on this. On the contrary, the pandemic did affect hotel searches, causing them to have only recovered by 86.% vs 2019.
According to the World Tourism Organization (UNWTO), the latest World Tourism Barometer saw a 182% year-on-year increase in January-March 2022, with destinations around the world receiving an estimated 117 million international arrivals, up from 41 million in the first quarter of 2021. UNWTO data shows that, during the first quarter of 2022, in the Americas, international tourist arrivals more than doubled (+117%) over the same three months. However, arrivals in Europe and the Americas remained 43% and 46% below 2019 levels, respectively.
In short, Dominican tourism today is heading towards new tastes and demands of a consumer who has realized the treasures hidden in his island, which opens the doors to innovation and adaptation of tourism in the country.
Learn More: ECONOMY