Regarding the need to preserve agricultural soils in the face of the expansion of urbanization, the Minister of Economy, Planning and Development, Pável Isa Contreras, stressed the importance of modernizing and making agricultural activities profitable in order to stop the loss of these soils and attract more people to this economic branch.
"The basic question we must ask ourselves is: How do we make agriculture a profitable and attractive activity that attracts young people so that they understand that it can also generate prosperity and be modernized and modernized," said the economist and researcher during an interview on the television program El Cafecito RD,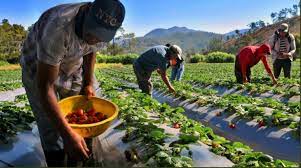 which is broadcast on Teleuniverso channel 29.
Isa Contreras explained that this will contribute to curb the tendency of agricultural land owners to sell these lands for urbanization purposes and reminded that this task is also the responsibility of local governments.
He added that Law 368-22, on Land Management, Land Use and Human Settlements, enacted at the end of last year, grants the Ministry of Economy the role of accompanying and strengthening the capacities of local governments to manage the territories.
However, the Minister clarified that local governments are autonomous in their power to regulate land use and that the Ministry of Economy is there to support them in this task and to guarantee that municipal land use plans are reasonable.
Reduction of inflation
The minister indicated that after the economic recovery from the effects of the pandemic and the outbreak of the war conflict between Russia and Ukraine, the Dominican Republic began to register inflation rates of between 8 and 9%.
"Now in 2023 we are returning to normality, which means that prices are going to increase normally. We are betting on returning to normal inflation, which means that prices go up about 4% every year," he expounded.
Growth with people and nature
The economist and researcher reiterated the commitment of the current government administration to build an economy that involves people, so that they enjoy the benefits of development and welfare, and is friendly with nature.
Isa Contreras pointed out that this will be a central topic in the second edition of Development Dialogues, which will take place this Tuesday, May 9 at 3:00 in the afternoon at the Theater of the Pontificia Universidad Católica Madre y Maestra (PUCMM) in Santiago, with the participation of the Vice President of the Republic, Raquel Peña.
This dialogue, moderated by Isa Contreras, will have as panelists the president of the Board of Directors of the Puerto Plata Chamber of Commerce, Mileyka Brugal; the executive director of the Strategic Development Plan of the Espaillat Province, Santiago Álvarez; the president of the Association for the Development of Santiago, Fernando Capellán; and the researcher Rafael Emilio Yunén.
Source: Mepyd.gob.do
Learn more: ECONOMY