The Export and Investment Center (ProDominicana) and the Municipal Council of Veron, Punta Cana, signed a collaboration agreement with the objective of promoting and increasing the attraction and expansion of Foreign Direct Investment (FDI), through the One-Stop Investment Window of the Dominican Republic (VUIRD).
With this alliance, the entities intend to facilitate the processes of installation of new Foreign Direct Investment in the country. In this way, the municipality of Veron, Punta Cana, will be connected to the digital platform of the VIURD to facilitate the services of permits, licenses, registrations, non-objection documents, among others.
Biviana Rivero Disla, executive director of ProDominicana, expressed that "through this agreement the intentions and actions aimed at strengthening the leadership of the Dominican Republic in attracting Foreign Direct Investment in the region are consolidated".
"With the Municipal Council of Veron, we generate the necessary means for the implementation of the Dominican Republic's One-Stop Investment Window system," he added.
For his part, the mayor of Verón, Ramón Antonio Ramírez, indicated that "this alliance represents an opportunity for growth for this province". He also reiterated the commitment to collaborate closely with this organization to provide the support required for the installation of the VIURD in this area.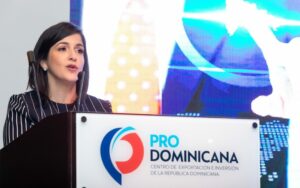 The VUIRD is the system that seeks to reduce the processes, costs and deadlines for the installation of foreign investment in the Dominican Republic. Some 17 entities in the country are involved in the portfolio of services offered through the One-Stop Investment Window system. In this way, duplication of efforts is avoided, the service to investors is made more efficient and there is live data on the participation of investment in the Dominican economy.
In this sense, investment plays an important role in the province of La Altagracia, as tourism is the main source of job creation and opportunities for the creation of hotel infrastructure. In addition, commerce, manufacturing, energy and other sectors are positioned as entities of development and investment growth in this territory.
It should be noted that this province has generated 1,603 direct jobs in Free Trade Zones, for an annual growth of 75% and accumulated investments amounting to USD 40.6 million, which represents an increase of 48% compared to the previous year.
Likewise, 99.91 % of exports from the province of La Altagracia belong to the municipality of Higüey. The main destination of the exported products corresponds to the United States market, which received 35% of exports in 2021. The Netherlands accounted for 22% and Spain for 11% of exports from this province.
The main products exported in 2021 were avocado with 42%, guavas, mangos and fresh or dried mangosteens 6.8%, and beauty preparations 5%.
Learn More: ECONOMY