A delegation from the Dominican Republic Export and Investment Center (ProDominicana) participated in a trade mission to Turkey with the objective of presenting and promoting the country's export and investment opportunities.
During the mission, led by its executive director, Biviana Riveiro Disla, and the Investment Manager, Zanony Severino, together with Ambassador Elvis Alam, visited the cities of Istanbul, Bursa and Ankara.
The executives and members of the embassy participated in several plenary meetings and with governmental, commercial and business personalities of that nation to present the attributes and business prospects in the Dominican Republic, as the main investment recipient and hub of the region.
Among the meetings were those held with the Istanbul Association of Minerals and Metals Companies (IMMIB), the Foreign Economic Relations Board of the Türkiye DEIK business association, the Istanbul Chamber of Industry, the Taltisa tourism company, the Ankara Chamber of Industries, the Investment Promotion Office of the Presidency of the Republic of Turkey, the Balkan Textile Group, the Ministry of Industry and Technology, the Ministry of Commerce, Honest Holding and the Ministry of the Interior. They also launched the DR Investment Guide in Turkish.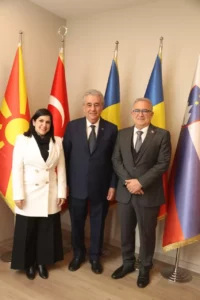 Exports to Turkey from the Dominican Republic, according to the Statistics office of that country, in 2021 amounted to USD 23,302,608 which represents an increase of 39 % in relation to 2019, before the pandemic. The Dominican Republic's trade exchange with Turkey has been increasing considerably at the level of imports from that country, being our country the fifth largest trading partner in Latin America and the Caribbean.
As for the behavior of Turkish investment in Dominican territory, it is noteworthy that it has grown and diversified with presence in the tourism, real estate, free zones, energy, construction, medical services, among others.
The main products exported to Turkey from the Dominican Republic are: cocoa beans or broken cocoa, pharmaceutical products, bovine hides and skins, cigars, textile rags and raw tobacco, among others.
Learn More: COMMERCE