The Dominican Republic is the country that has recovered its pre-pandemic tourism figures the fastest, as published in Top 20 cities and countries with the best performance in 2022. The results confirm the potential that the sector has, so it is no coincidence that this year the Caribbean destination closes with "historic figures" in terms of tourism investment. According to the Association of Hotels and Tourism of the Dominican Republic (Asonahores) will exceed 1,000 million dollars in projects (about 970.7 million euros).
"The success we have achieved as a country, has been due to the fact that there is a clear public-private policy to support the tourism sector and that has led us to manage to create an ecosystem that works," said Rafael Blanco Tejera, president of Asonahores, during the V edition of the "Tourism Investment Forum".
According to Blanco Tejera, the success of the Dominican tourism ecosystem is based on six pillars: investment promotion policy; fiscal stability with clear long-term policies; labor stability; tourism infrastructure; an aggressive air connectivity policy; and a great public-private alliance.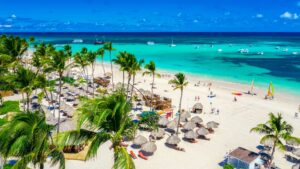 For the president of Asonahores, these six pillars have been key to attract investment, and has detailed that foreign investment in the country represents more than 30% of the total and has an impact on 16% of GDP
The Dominican Republic is a strategic destination for Spanish chains. In fact, the 17 companies that make up Inverotel have 70 hotels in the country and an investment plan of 944 million dollars (914.57 million euros) for the next two years.
The Dominican Republic's goal is to reach 7 million international tourists this year and, according to data from Asonahores, the country will close with more than US$8.4 billion (€8,153 million) in revenues for the country.
Learn More: ECONOMY