Colombian actress Carmen Villalobos spreads on her social networks some of her passions, among these, dancing and music.
This time, the star of the new version of 'Hasta que la plata nos separe' posted on her Instagram account a video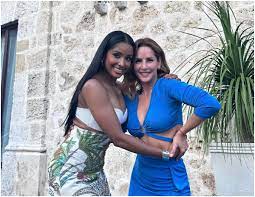 dancing merengue in the streets of the Colonial Zone, National District, with a Dominican celebrity.
The also presenter was seen wearing a spectacular blue dress, which shows off the slender figure she boasts. Of course, the Caribbean landscape could not be missing in the video.
She also shared another video in which she says that she loves the Dominican Republic and likes to visit this country. She also said that she "brings back memories" of her stay in the DR.
Source: Robertocavada.com
Learn more: ENTERTAINMENT