The presentations will take place on Tuesday, April 25 and Wednesday, April 26 at the Calos Piantini Hall of the Eduardo Brito National Theater.
Mexican singer-songwriter and actor Carlos Rivera is preparing a great show for his first time in Santo Domingo, where he will present two concerts on the nights of Tuesday 25 and Wednesday 26 April at the Calos Piantini Hall of the Eduardo Brito National Theater.
"We feel extremely fortunate, as we have the opportunity to present two dates after the first one was sold out and that makes me very happy. In addition, I will finally be able to take my concert to the Dominican Republic, we had it pending and we are very excited," said the artist.
As part of his tour "Un tour a todas partes", which arrives in the country under the production of Cesar Suarez Jr., Rivera brings his latest album, "Sincerándome", from which the song of the same name is taken and in which he talks about the support of the public in the growth of his artistic career.
He said that, more than a concert, it is a bet on stage with an orchestra and with his style, in which he has implemented elements of musical theater according to his experience in this stage area, and emphasizing that he likes to give his all and that his followers are left with the feeling of a great show.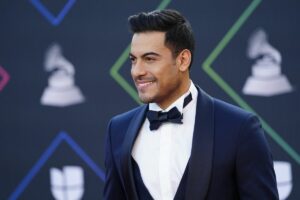 Carlos Rivera will be taking his "Un tour a todas partes" to several cities in his native Mexico, the United States and Spain, as well as Costa Rica, among other countries.
The artist started in music at a very young age, but became known when he won the third edition of the reality show "La Academia" in 2004. He later signed a contract with Sony Music and, while preparing his debut album, he recorded the curtain for the soap opera "Amor sin condiciones" and the song "Si tú supieras" for the movie "Mar de sueños". She also ventured into theater and starred in the musical "Bésame mucho", later adding her participation in plays such as "La bella y la bestia", "El rey León" and "Mamma Mia".
Source: Listindiario.com
Learn More: ENTERTAINMENT