The actress and TV presenter was in the country filming an episode of the show Top Chef Vip.
Carmen Villalobos was in the Dominican Republic filming an episode of the show Top Chef Vip. The Colombian actress took advantage of her visit to the country to enjoy the local gastronomy and dance merengue in the Colonial Zone.
In her stories she shared a video in which she said that she loves the Dominican Republic and likes to visit this country. She also said that the colonial city of Santo Domingo brings back memories of her stay in the half-island,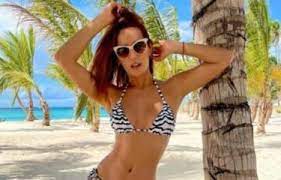 where she shot the movie El fantasma de mi novia, a story she starred in with popular Cuban actor William Levy.
The actress was in the country as part of the filming of Top Chef VIP, Telemundo's culinary reality show, where several celebrities show their cooking skills, among them is also the TV presenter and former contestant of Nuestra Belleza Latina, Genesis Suero, with whom she is shown dancing in the audiovisual.
More about Carmen
Yorley del Carmen Villalobos Barrios (Barranquilla, Colombia, July 13, 1983), known artistically as Carmen Villalobos, is a Colombian actress and model. She obtained her first leading role in Telemundo, in the telenovela Sin senos no hay paraíso, a new adaptation of the novel Sin tetas no hay paraíso written by Gustavo Bolívar, which had already been produced by Caracol Televisión in 2006.
After playing Catalina, she obtained another leading role in 2010 for the same network, in the telenovela Niños ricos, pobres padres.7 That same year she was part of the main cast of Ojo por ojo. In 2011 he starred alongside Jencarlos Canela in the telenovela Mi corazón insiste en Lola Volcán, an adaptation of the Colombian telenovela Yo amo a Paquita Gallego. This was the first production that Villalobos starred in the United States, and the first production to win in the category of "Best Telenovela of the Year" in the first edition of the Tu Mundo Awards in 2012.
In 2013 he joined the cast of El Señor de los Cielos, a television series in which he was in for three seasons, and for which he received three nominations in the Tu Mundo Awards. After finishing her participation in El Señor de los Cielos. Villalobos was invited to participate in the first season of Sin senos sí hay paraíso, a sequel to the one she starred in in 2008, which is based on the novel Sin tetas si hay paraíso.
Source: Elprofeshow.com
Learn more: ENTERTAINMENT