Karol G celebrates this Tuesday, February 14, her 32nd birthday, a date she started celebrating since her meeting with Rihanna. The paisa singer couldn't believe her excitement when she talked to one of her greatest muses.
Rihanna and her show at the Super Bowl 2023: the impressive figures are already known
After Rihanna's show at the Super Bowl, the bichota was able to fulfill his dream of meeting her. He even got Riri, as they call the Barbados artist, to say a few words in Spanish.
The bichota wrote an emotional message to her fans in which she wished that when they meet their idols, they treat them like Rihanna treated her.
"As a Fan I have to say this was the HIGHLIGHT of my entire life!!!! 🖤 I hope when you guys meet your idols, they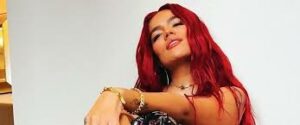 are as amazing as she was to me. I LOVE YOU @badgalriri ⭐️✨ #FueunaChimba," Karol G expressed in the Instagram post.
Anuel AA confirmed that he broke up with Yailin, the most viral: "We are no longer together."
Later, Karol G told her almost 59 million followers on her Instagram account that she was at the airport, ready to travel to the Dominican Republic, where she will celebrate her 32nd birthday this Tuesday, in the company of her lifelong friends and those who accompany her on the most important dates.
RBD to perform in Medellín, promoted by Karol G
The Mexican group RBD will perform on November 3 at the Atanasio Girardot stadium in Medellin, prompted by a social media campaign by singer Karol G for the band to return to Colombia, the concert organizers announced on Monday.
RBD concert in Medellin: will the band also perform in Bogota?
"The Latin pop group that has transcended all generations (…) has broken all records in the sale of its #SoyRebelde tour and has sold out more than 20 shows globally, finally confirms a date in Colombia," said T6H Entertainment, Live Nation and Ocesa Colombia, organizers of the event, in a statement.
Colombia was the first country outside Mexico to be visited by the band in 2005 and on that occasion fans "flooded the streets chasing the bus that took the band everywhere while the public filled the stadiums in the cities of Medellin, Cali and Bogota, bringing together more than 100,000 people," the information added.
Source: Noticias.caracoltv.com
Learn more: Entertainment