The model and communicator Heidy Rosado is the representative of Barahona in the Miss Dominican Republic Universe 2023 pageant, which still has no definite date.
The young woman expressed that her objective is to bring a message of impact promoting the richness of her province and expressed her desire to become the next Miss Dominican Republic Universe 2023.
Rosado is a talent of Telemicro Media, and is part of the host of the program "La Opción de las 13" transmitted by Telecentro, according to a press release.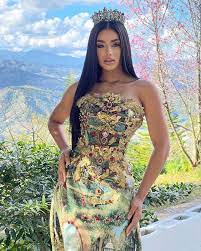 Academic background
She has professional training as a master of ceremonies, which was evidenced at the gala of the XIX Golden Awards 2022, held at the Antonio Méndez Auditorium, at the UASD-Barahona Campus.
In addition, she expresses that training in communication has been an essential part of her career. She is a graduate of the Escuela Nacional de Locución Otto Rivera. She is also a student of International Business with a diploma in public relations, production, TV animation and is fluent in Italian language.
Presenter, entertainer and interviewer, she is part of the staff of the Meridian program Súper Poder 33 in the role of presenter.
She has participated in various beauty pageants obtaining titles, among which stand out Miss Ambar Dominicana, Top 10, Miss Dominican Tourism 2015 , Miss Silhouette International 2016, Miss Latin America of the World 2018.
Solano has been working for more than five years with her own foundation "Heidy por una sonrisa", she has helped children suffering from different diseases and who do not have sufficient resources to afford the necessary health care, indicates the information sent to this media.
The foundation has 19.3 thousand followers on Instagram.
Source: Diariolibre.com
Learn more: ENTERTAINMET