Spanish singer Natalia Jiménez will take to the stages of Puerto Rico and Miami (Florida) this month with her new international tour "Antología 20 años Tour", in which she will perform her hits as a soloist, as well as those unforgettable songs from the beginning of her career with the band La Quinta Estación.
The celebration of his 20-year career includes an extensive tour of more than twenty cities in the United States and the main stages of Mexico, Puerto Rico, Dominican Republic and other countries of the American continent, as well as his native Spain, according to a press release distributed to the media on Thursday.
The tour begins in Puerto Rico this August 20, at the Coca Cola Music Hall, with another concert also there on the 21st, and then will jump to Miami on the 26th of this month, to perform at the James L. Knight Center downtown.
"With this tour we will be visiting many countries and hopefully many of your cities! I can't wait to post all the dates! See you soon!" exclaimed the "Me muero" singer enthusiastically.
Recognized by music critics and the public as one of the "most complete artists of her generation," Jiménez is celebrating two decades "making music her mode of expression as a performer, composer, creator of a unique style in fashion and even as a change agent among her followers," the press release states.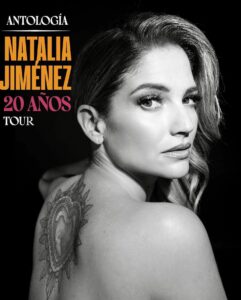 A summary of her career that the artist wanted to capture in her international tour and upcoming celebratory album – "Antología 20 Años" (Anthology 20 Years), it adds.
The album will be released soon, as well as her new show, and will include all her hits as a soloist. Also those unforgettable songs from her time as lead singer of La Quinta Estación, the Spanish pop and ballad band that made her known throughout Latin America and the United States.
It also contains the main hits she has had in her solo career since 2011, with new versions produced by Cheché Alara, as well as two previously unreleased songs, according to the press release.
The album is aimed "at the artist's extensive and varied fan base", obtained thanks to her wide spectrum of songs, from the rancheras of spite or heartbreak to the romantic and uplifting ones.
"I wanted to compile all my work and all my hits in a single album, to be able to reverse them and listen to them the way I feel now. I am now in my twentieth year of career – I am already 40 years old – and obviously, how I feel my songs now, after having sung them so many times and having presented them in so many places, is different", said the vocalist.
The artist will offer her last concert of her "México de mi Corazón" tour this Thursday in San Luis Potosí, a country where she has a huge following, and thanked "everyone for coming to each of the concerts".
The detailed confirmation of the cities and dates of her next tour will be announced through the artist's social networks, according to the press release.
Learn more: ENTERTAINMENT