Natasha Kennard is making the most of her time away from work in the best possible way. The Mega journalist has chosen the Dominican Republic as the country where she will seek to recharge her batteries for the rest of the season.
Through her official Instagram account, Natasha Kennard has taken some images of the paradisiacal landscapes where she is resting for these last days. Her followers were delighted.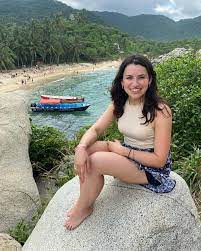 The white sand, crystal clear waters and the colorful Caribbean city stayed in the heart of the journalist who has managed to be among the most loved of Mega in the last year.
Many of her followers let her know that they miss her in the newscast, others asked her to continue taking advantage of her free time to learn more about the Puerto Rican culture. The truth is that Natasha Kennard wanted to share her experience with everyone.
Attentive to everything
Every striking detail in Natasha Kennard's journey in Puerto Rico was recorded in her space on the social network of the little camera. She is followed by more than 35,200 followers.
Source: Periodismochileno.cl
Learn more: ENTERTAINMENT