Anthony Santos announces only concert of 2022 in the capital: November 26 at Sans Soucí
The only concert of 2022 to be offered by "El Mayimbe de la Bachata", Anthony Santos, in Santo Domingo will be in the esplanade of the Sansouci marinita.
The concert is scheduled for November 26, as just announced.
On the same night, the Spanish singer-songwriter Pablo Alboran will perform at the National Theater.
Anthony Santos' concert will be produced by @los4fantásticosrd and the company BJD, with the support of Reconocidosnet.
The artist will offer part of his repertoire, which includes songs such as "Te vas amor", "Por mi timidez", "Durmiendo solo", "Vete y aléjate de mí", "Me enamoré", "Donde estará".
The concert organizers promise a spectacular show.
Tickets and reservations can already be obtained through @Mgkitchen @mrgrilledsdq.
You can also call (829) 805-8146 and (809) 714-4622, informed the production team.
MORE ABOUT ANTHONY SANTOS
At 55 years of age, Anthony Santos, born Domingo Antonio Santos Muñoz in Las Matas de Santa Cruz on May 5, 1967, is recognized as the most expensive bachata artist in the country.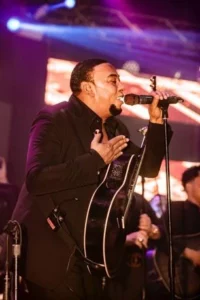 Owner of a large army of followers, being a rural bachatero, he managed to conquer the country and beyond… almost without traveling.
With 24 studio albums, 12 recorded live and 5 compilations, his most recent production "La historia de mi vida Vol.1" (2018), has been well received by critics.
Upon its release, the undersigned wrote in Notaclave.com: "With La Historia de mi Vida, Anthony Santos gives a twist to his artistic career. He ups the ante. It is a hinge point, a before and after, a boiling point of evolution that is halfway between the classic bachata, to which he clings on the one hand, and on the other hand the desire to impose new sounds, new avenues, not only in his texts but also in the colors of his arrangements. A freshness of new sonorities are coming through the door that the artist deliberately leaves ajar, implying that nothing will ever be the same again".
It is expected that some of the songs from his most recent album will be performed in this concert.
August 8 has been proclaimed Anthony Santos Day in New York by former Mayor Bill Di Blasio.
Anthony Santos has made his life a legend. He has performed duets with Romeo Santos and Ozuna, among other artists. Here is the video clip of "Señor juez".
Learn More: ENTERTAINMENT