Some 192 companies occupied 410 stands with a higher volume of participation than in 2019
The Dominican Republic Hotel and Tourism Association (Asonahores) announced that a "historic participation" was achieved in the 34th edition of its Trade Show, with an average of more than 4,000 visitors per day, a figure that "far exceeded" the attendance of 2019, which was the last exhibition held.
On this occasion, dedicated to the United States for being the main country of origin of tourists to the Dominican Republic, he reported that more than 400 delegates were registered as official buyers at the event, reflecting an increase of more than 30% in the business impact of this fair on the tourism industry.
A total of 192 companies participated, occupying 410 stands, all of them suppliers of national and international products and services, of which 30% participated for the first time, as new members of the fair, with a broad portfolio of proposals that promote commercial exchange in the sector.
Simultaneously, an agenda of more than 20 lectures and press conferences, as well as activities and workshops was sold out, having for the first time academic offers from the Instituto Tecnológico de Santo Domingo, the Pontificia Universidad Católica Madre y Maestra (Pucmm), and the Instituto Nacional de Formación Técnico Profesional -Infotep.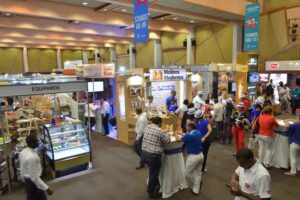 Agreements and online courses
The Trade Show, "the largest of its kind in the Caribbean", was the occasion for the signing of inter-institutional agreements.
Among these agreements is the one signed by IE University, the Ministry of Tourism and the Pucmm, to offer online courses in the area of tourism from the Dominican Republic, endorsed by the World Tourism Organization, through its Online Tourism Academy.
An agreement was also signed between Asonahores and the Confederación Patronal de la República Dominicana (Copardom), to undertake a joint strategy to promote and develop projects and actions to promote the implementation of best practices.
Andrés Marranzini, executive vice-president of Asonahores, highlighted that this year the fair was 30% larger than previous editions, with 1,100 meters more space.
He also pointed out that for the first time the Expo Comercial incorporated the educational sector as a participant, in order to promote the professional training of tourism sector collaborators.
Learn More: COMMERCE