Representatives from 40 countries, including ministers and cruise industry leaders, have confirmed their participation in the 28th annual FCCA conference.
Tourism Minister David Collado highlighted the importance for the country of the start today, Tuesday, of the 28th edition of the Florida Caribbean Cruise Association (FCCA) conference, which will be held in the Dominican capital until Friday of this week.
The official said that he got the venue of the "cruise summit" as part of his effort to strengthen this tourism segment, which is growing rapidly.
"With this meeting of the FCCA, which will be held from Tuesday through Friday, the eyes of the cruise industry worldwide will be on our country and its impact to continue growing will be impressive," said Minister Collado, who will head the Annual Conference of the FCCA.
In this 28th edition of the Florida Caribbean Cruise Association (FCCA) conference, 500 personalities from 40 countries have already confirmed their participation.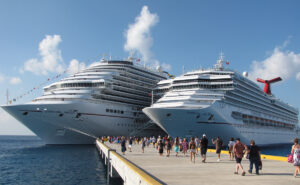 The Dominican Republic has achieved an important position in cruise tourism. In the January-September period of this year, the country received 800,000 visitors by sea, including cruise passengers and crew members.
This event, which brings together the main businessmen of the cruise sector, will offer the country the possibility of finalizing negotiations for new cruise lines to come to the country and for the existing ones to increase their calls.
The 28th edition of the FCCA conference will be held at the Renaissance Santo Domingo Jaragua Hotel & Casino, from October 11 to 14, where private meetings with cruise lines, panel discussions on the industry, and a "Marketplace" exhibition will be held.
The Florida-Caribbean Cruise Association (FCCA) is a non-profit trade organization comprised of 22 affiliated cruise companies, which operate more than 100 ships in the State of Florida, the Caribbean and Latin America, and has Platinum Members composed of government authorities, ports, tour operators and other service providers.
Learn More: EVENTS